I am a big fan of the Nixplay smart digital frames. Over the past few years, I have reviewed quite a number of them. And, one of their most recent new smart frames is a big leap forward. While much of the functionality remains the same, there is a new feature built into the frame itself that makes me quite happy. It's the fact that the new Nixplay 10.1-inch Touch Screen Smart Photo Frame doesn't actually include a remote control. Why is this a good thing? Because the frame is now entirely touch-enabled! (*Disclosure below.)
While remote controls are great (trust me, I remember an age when my VCR – remember those? – had a CORDED remote control), it is quite easy to misplace them or get confused about which remote controls which device. And, as I have a variety of Nixplay remote controls scattered around the house, having one more remote control for the Nixplay smart photo frame would actually be a bit confusing. So, yes, you can control these Nixplay digital frames with the NixPlay app on your smartphone, but sometimes it is just nice to simply go up to the frame and control everything much the same way you would a tablet or smartphone.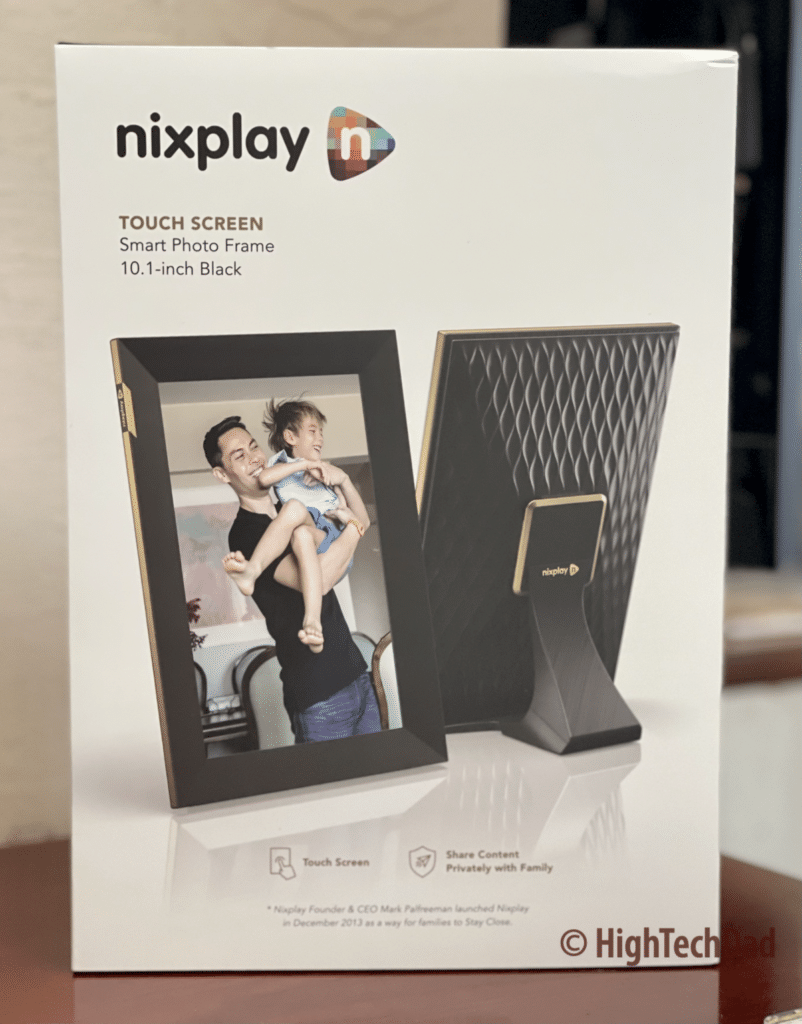 So, I'm pretty happy with this technology upgrade. The Nixplay touchscreen is easy to use and very intuitive, and setting up and controlling the Nixplay smart digital frame is a snap. But let's also remember why digital frames are great. Sure, a picture on the wall is nice, but it is static and, honestly, a bit boring. With a smart digital frame, you can have different playlists and easily update or change what you are showcasing on the frame.
Quick Things to Love about the Nixplay Smart Digital Frames
Photos (and videos) are all about building conversation and bringing back memories. Much like opening a photo album, time not only stops, but rewinds to the past. One can spend quite a bit of time reliving an occasion by simply looking at one photo. And when you have hundreds or thousands of photos all stored digitally and available at the touch of a button, in the case of the Nixplay 10.1-inch Touch Screen Smart Photo Frame, you can literally spend hours just scrolling through photos and talking about each one.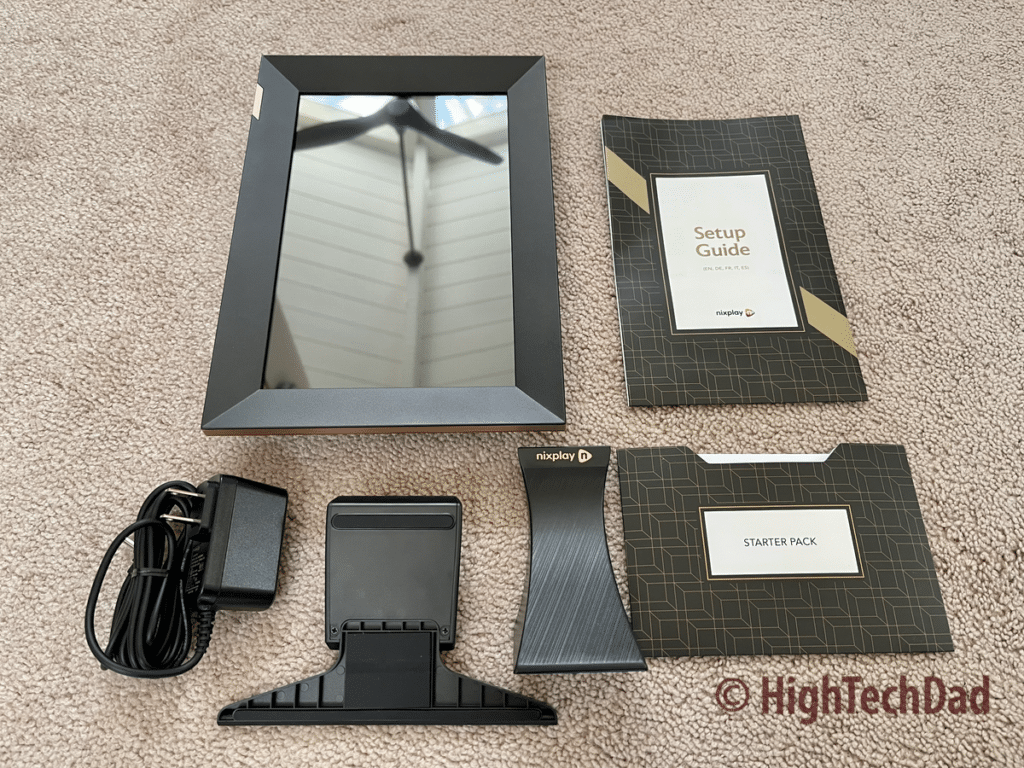 I have reviewed several Nixplay frames over the past few years. Each one has its own unique tech advances. Some have built-in digital speakers, others have different designs and styles, and others simply look great on a bookcase. My favorite thing about all of these Nixplay smart digital frames is that they connect to WiFi and can be controlled via the Nixplay app.
Not only can you remotely control all of the settings via the Nixplay smartphone app (or via the Nixplay website), you can also upload photos directly from your smartphone, create albums, and set up playlists specific to each Nixplay frame. So, for example, if you have a frame in your bedroom, away from guests, you can set up a playlist that shows some of those "non-approved" photos of your kids. (My daughters are a bit picky about what images are seen by everybody and which ones should just be for family.)
Another nice thing, which makes the Nixplay smart digital frames so great as gifts for the extended family, is that if you give a frame to the grandparents (which we did), you can regularly refresh the photos with the latest and greatest "approved" ones. And you can do that remotely via the application (or even via email).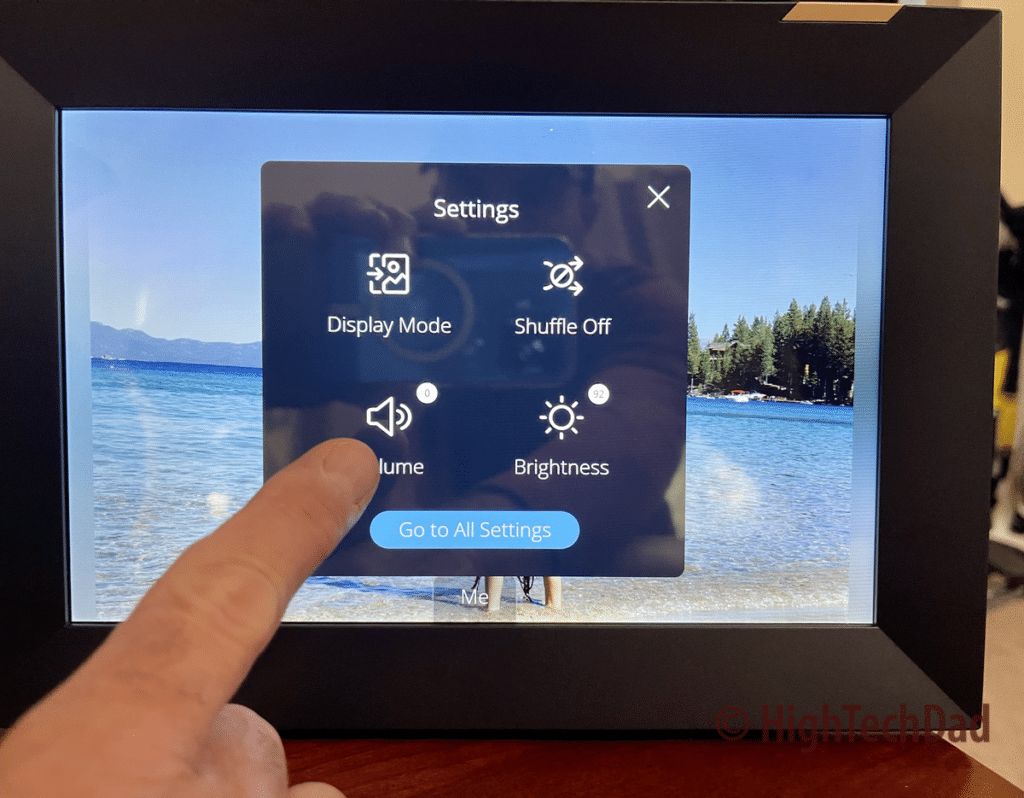 Setting up this 10.1-inch digital smart frame from Nixplay is incredibly easy, as all of their other frames. And with the touch screen, it is even easier. You plug the power cord in and then work through the screens that appear on the frame.
Part of that process is connecting to your WiFi. In the past, with the Nixplay frames that came with remote controls, entering in the password for your WiFi network could take a couple of minutes. Now, with the touch-enabled screen, you literally type the password in using the keyboard that appears on the frame. And once you connect to your WiFi, you connect it to your Nixplay account within the smartphone app. It took me about three minutes to fully set it up.
Taking the Nixplay Smart Digital Frame and making it Better
So, how do you improve on a smart digital frame? As I said, Nixplay has already curated the experience to make it easy to control and update the frame remotely. Well, the key is in the word at the end of the previous sentence, with a bit of a twist. The new Nixplay 10.1-inch Touch Screen Smart Photo Frame does NOT include a remote control to manage the frame. Like all of the other frames, you can use the app, but this one has a full touch screen.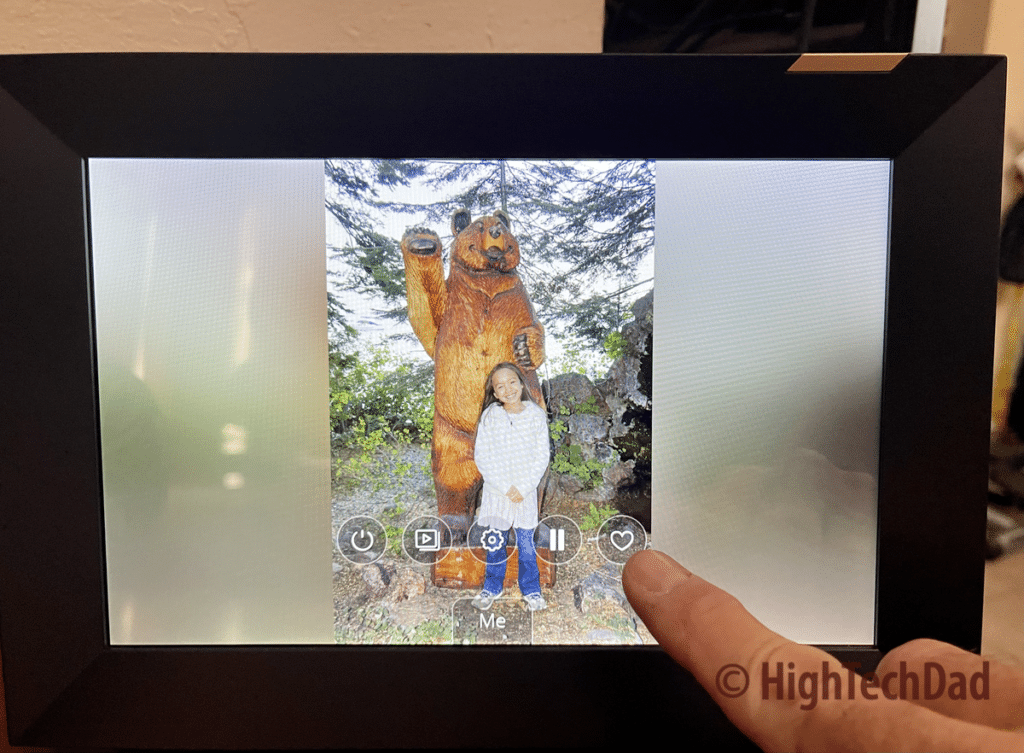 For those interested in the specs of this new touch-enabled digital screen, here they are:
Screen type: Touch screen LCD IPS
Resolution: 1280 x 800 (HD)
Aspect ratio: 16:10
Brightness: 400 cd/m2
Contrast: 500:1
Viewing angles

(Left/Right/Top/Bottom): 80/80/80

Sensors:

Auto rotate (portait and landscape)
Microphone Activity Sensor (non-recording)
Auto on/off
To double-click on a few of these items (or double-touch in the case of this frame since it is touch-enabled), the screen itself is HD. Of course, this depends on the quality of the photo (or video) that you upload. The file formats supported by the Nixplay frame are:
Photos: JPG (.jpg – .jpeg) and PNG (.png)
Videos: 15-second video clips via mobile app (60-seconds available); MP4, MOV, MPEG
You can rotate the frame physically from portrait to landscape, and the photos will automatically adjust to support whichever viewing angle you have.
And, there are built-in sensors (apart from the viewing angle sensor) that will automatically turn the Nixplay frame on or off based on motion or activity. For example, if you aren't in the room where the Nixplay frame is, after a predetermined amount it time, it will go into power-saving mode. And, if you re-enter the room and the Nixplay frame picks up the motion, it will resume playback.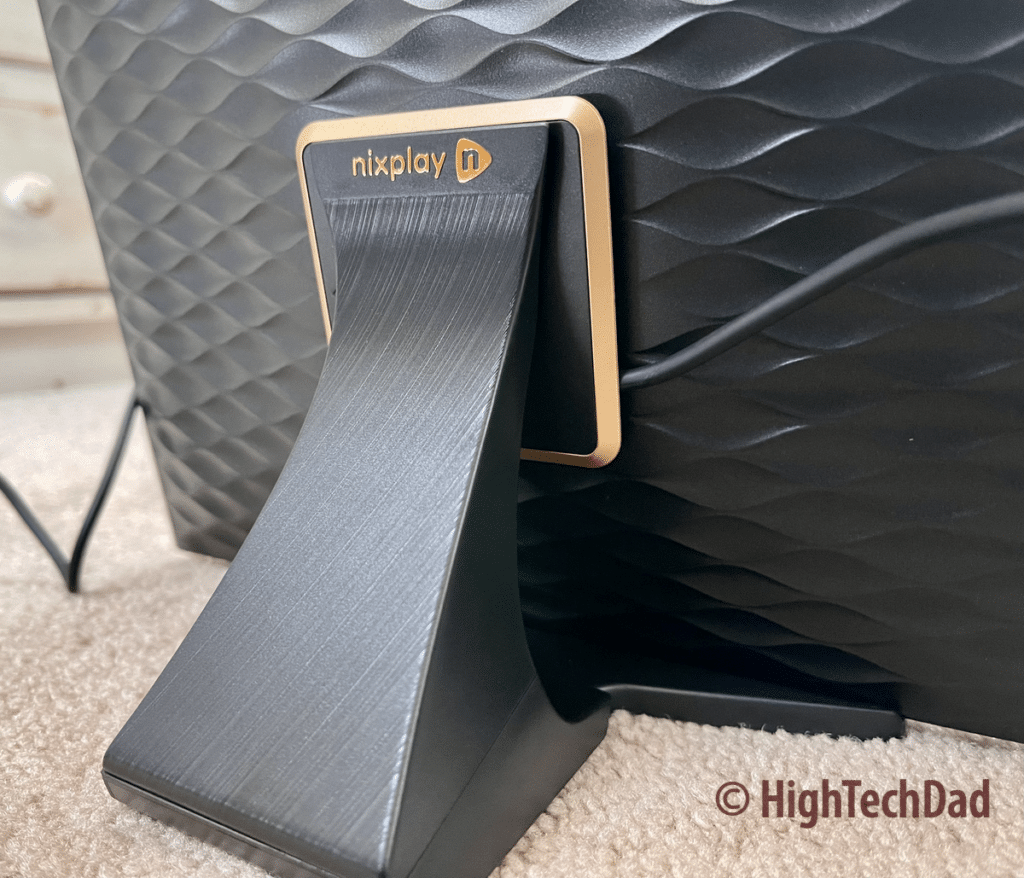 You can set up the transitions, the amount of time you want a picture to show on the frame, adjust the volume for videos, shuffle the playback of photos, tell the frame how to handle non-standard sized images when to go to sleep, and a whole lot more either on the screen (using the touch interface) or directly on the Nixplay app. It's super easy to control.
The Price for On-Demand Memories
Memories are priceless. And, as we create more and more digital content, it is important to ensure these images are available to be relived and enjoyed. A Nixplay smart digital frame puts these memories at your fingertips and allows you to quickly share and relive time passed. Remember, photo albums are fun to flip through, but most often, they simply sit on a bookshelf gathering dust until a moment to look at them pops up.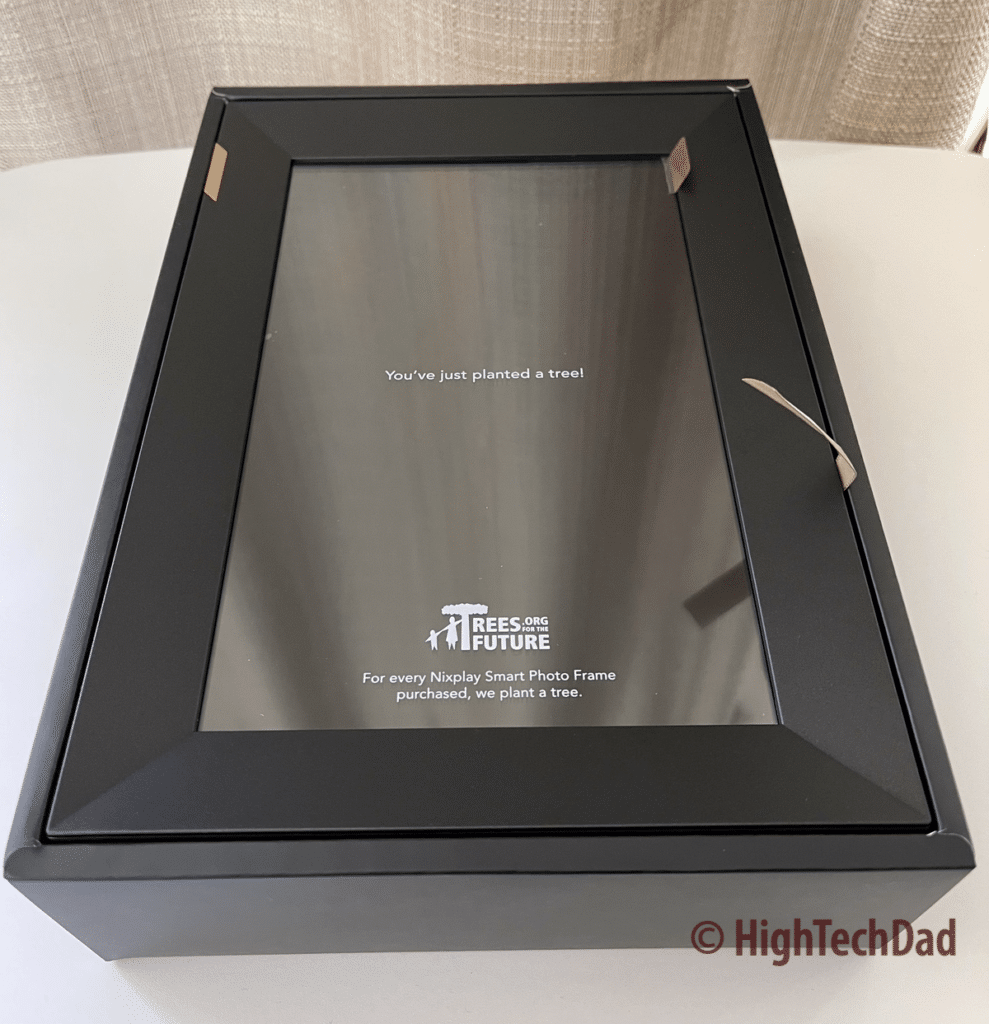 A digital photo frame brings all of these memories out into the open and shares them with your loved ones around you. We have a Nixplay frame in our living room right next to the door. Often, even as we are rushing out the door, if there is a photo memory that pops up, the rushing stops, and conversation about the past starts. Reliving these memories is priceless, in my opinion.
The Nixplay 10.1-inch Touch Screen Smart Photo Frame retails for $209.99 but as of this writing, it is on sale for $157.49 (it may go back up in price soon)! You can also get it on Amazon for $208.14.
Buy Now on HighTechDad
The product shown below (and related products that have been reviewed on HighTechDad) is available within the HighTechDad Shop. This review has all of the details about this particular product and you can order it directly by clicking on the Buy button or clicking on the image/title to view more. Be sure to review other products available in the HighTechDad Shop.
The Nixplay smart digital frame, including this new touch-screen version, is a great gift to give during the holidays, for special occasions, or simply to gift yourself. It's an increadibly easy way to relive memories and share experiences with those around you. And, it is much better than just sticking a photo away in a photo album. The act of viewing photos together even allows for new memories to be created.
Disclosure: I have a material connection because I received a sample of a product for consideration in preparing to review the product and write this content. I was/am not expected to return this item after my review period. All opinions within this article are my own and are typically not subject to editorial review from any 3rd party. Also, some of the links in the post above may be "affiliate" or "advertising" links. These may be automatically created or placed by me manually. This means if you click on the link and purchase the item (sometimes but not necessarily the product or service being reviewed), I will receive a small affiliate or advertising commission. More information can be found on my About page.
HTD says: Why keep your digital memories bottled up on your smartphone when you can easily showcase and relive those memories easily with a Nixplay smart digital frame. And the new 10.1-inch smart digital frame with the touch-screen interface makes displaying, managing, and navigating those memories even easier.
HighTechDad Ratings
Ease-of-Use

Family-Friendly

Price Point

Features
Summary
Why keep your digital memories bottled up on your smartphone when you can easily showcase and relive those memories easily with a Nixplay smart digital frame. And the new 10.1-inch smart digital frame with the touch-screen interface makes displaying, managing, and navigating those memories even easier. When setting up the Nixplay smart digital frame, you literally just need a few minutes. The touch-screen interface makes everything quite fast and easy. And, once you connect the Nixplay frame to the Nixplay app, you can easily set up and control playlists and albums, bringing those digital memories to life!
Pros
Easy to set up
Touchscreen make setup, navigation, and management easy
Photo display quality is great
Cons
Initial price point is a bit high (a lot of competition) – look for sales!