Summer is right around the corner. Kids and young adults are graduating. BBQs and end-of-school parties are happening. Tailgating at sporting events is becoming more prevalent. So can we all say that we are finally coming out of our caves? And what a better way to announce your presence than with an iLive Bluetooth Tailgate Party Speaker! This is THE speaker to bring to a tailgate or backyard party to become THE life of the party. (*Disclosure below.)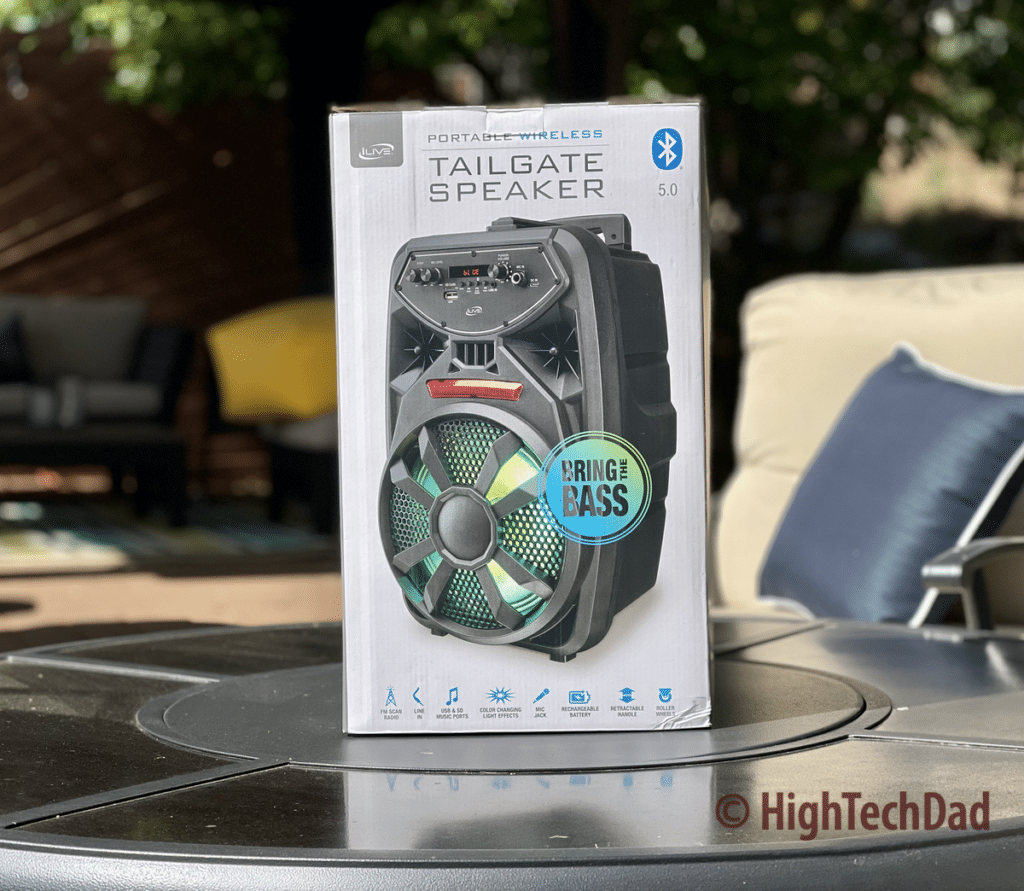 While iLive calls this a Tailgate Party Speaker, I think this speaker is great as a plain old "party speaker." In fact, it has many very useful features for a variety of events. And you don't have to be a kid to use this either (but it could be really amazing for kid parties and would keep children entertained for literally hours). The "tailgate" part of the name also is important, especially for adults. I will go into some of these features in greater detail below.
Let's Look at the Specs of the iLive Bluetooth Tailgate Party Speaker
When you go through the specs, you also get to go into how these features can be used and how well they work. The key features, in my opinion, are the following:
Bluetooth 5.0
FM radio
Aux In, USB port, MicroSD slot
Mic in
Lightweight & built-in handle & roller wheels
Color-changing LED lights
~6-hour battery life
Let's dive into some of these features a bit!
Bluetooth 5.0
The iLive Bluetooth Tailgate Party Speaker supports Bluetooth 5.0. What does this mean? Just put it in pairing mode, and you will be able to stream your music (or the game) from your smartphone or other Bluetooth-compatible devices.
When you power up the iLive Bluetooth Tailgate Party Speaker for the first time, it will go into pairing mode. Just search for ISB380 on your Bluetooth device and choose it. Once connected, it will always continue to connect or try to connect. You can manually erase and pair it with a different device. The range for Bluetooth streaming is about 60 feet when there is no interference.
FM Radio
This is a feature I haven't seen in many Bluetooth speakers. There is an FM radio with a scan function built in. This is where the "Tailgate" part of the name comes into play. I remember when I was a kid, the only way to hear a game was to listen on the AM radio band (and it sounded pretty bad). Now many sports games are on the FM band.
You do have to try your best to be in a good location to get a strong signal on the FM band. There is a built-in FM wire antenna, but if you are in an area of spotty coverage, it might be hard to tune to the station you want. But once you do and you have good reception, the sound is great! So, for those tailgaters, just throw the iLive Bluetooth Tailgate Party Speaker into your car, SUV, or truck and be prepared to rock the game.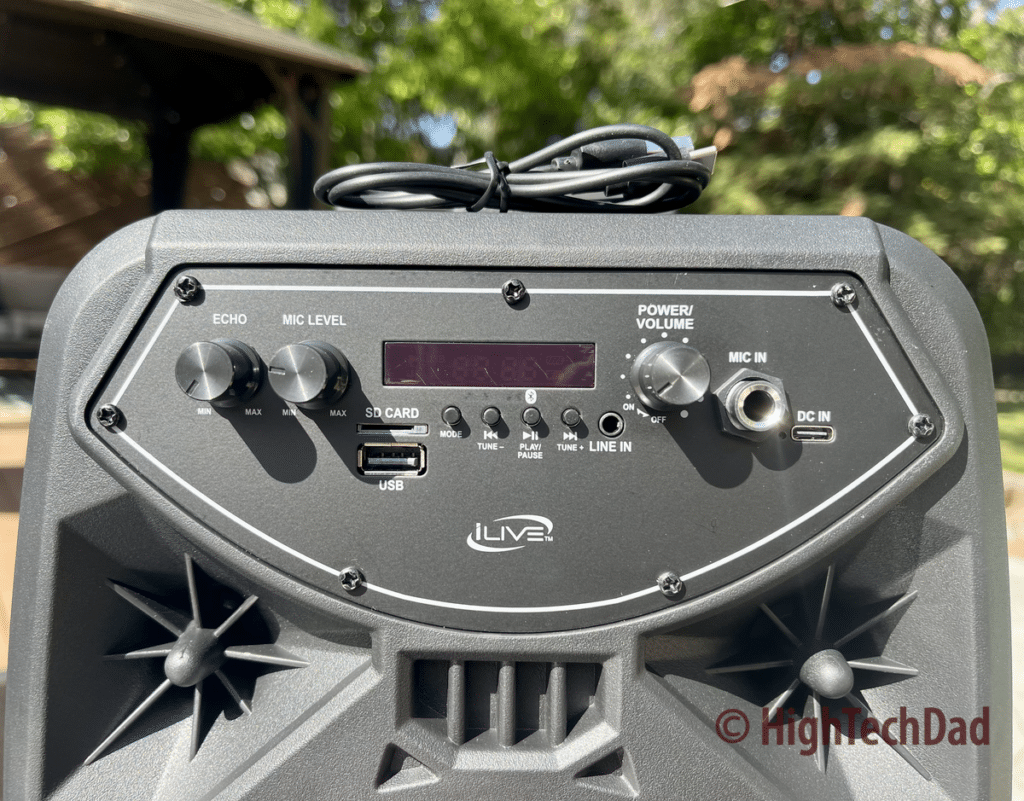 Aux In & USB port & MicroSD slot
If you have an older audio device that still has a 3.5mm audio jack, you can directly connect it with a compatible cable to the iLive Speaker. It's always great to have a somewhat backward-compatible way to connect other audio devices.
Or, you can use the USB port to plug in a thumb drive that has audio files on it. The iLive Bluetooth Tailgate Party Speaker supports audio file playback. Similarly, if you store audio files on a Micro SD slot, you can also play music from there.
Mic In
Now, this is where the fun really starts to begin and where this Bluetooth speaker suddenly transformed into a party machine! And all you need is a good 'ol microphone. I picked up a cheap mic from Amazon (note: I would recommend getting a slightly better mic than a really cheap one because once you start using it for Karaoke, it will start getting some heavy use!).
Turn on your music (via Bluetooth streaming, FM radio, USB, or Aux-in), plug in the mic, and get ready to sing! The great thing about the iLive is that you can independently adjust the volume of the music but also control the volume AND the echo of the mic.
Once I played around with this Karaoke mode, I realized I probably should keep the mic volume low because I really am not that great of a singer.
Adjusting the mic volume and the echo independently from the music is really great. And if you are connecting an iPad or iPhone and the lyrics of the song show, you have an instant Karaoke party!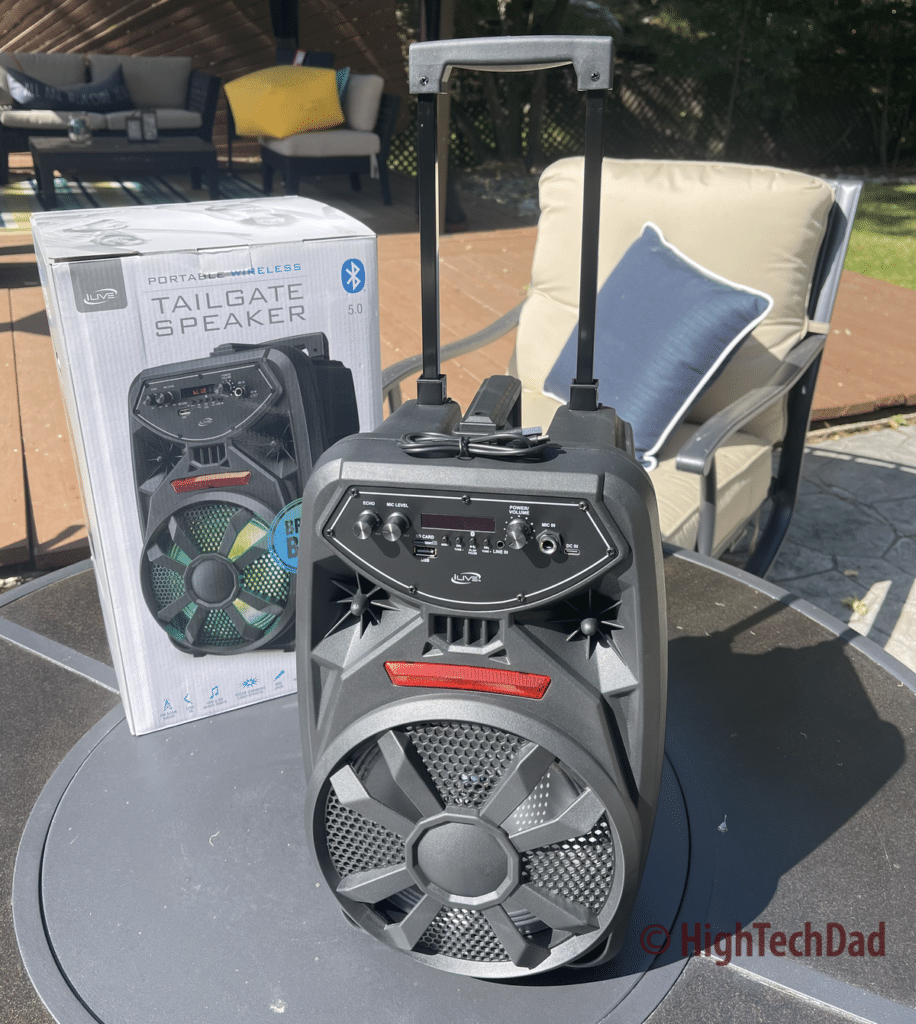 Lightweight & Portable with a Handle and Rollers
There is nothing worse than having to lug a heavy speaker around. But, don't let the looks of the iLive Speaker fool you! It does look like it is heavy, but it truly isn't. It only weighs 5.4 pounds, so it is easy enough to carry with one hand.
But to make transportation even easier, it has a built-in handle as well as an extendible handle (like a telescoping suitcase handle). And there are roller wheels on the bottom. While as an adult, I probably wouldn't use the handle and wheels, I could see little kids finding that feature very useful.
Color-changing LED Lights
Since I was talking earlier about bringing the party wherever you go with this iLive Bluetooth speaker, I have to talk about the color-changing LED lights. Around the 8-inch main speaker are several color LED lights. These lights directly interact with the sound of the music, adding an almost disco-like atmosphere to any environment.
How long can it go?
One of the biggest questions is, once fully charged, how long can the iLive Bluetooth Tailgate Party Speaker keep blasting out music and vocals? Charging up the speaker fully takes about 4 hours. From there, you can get around 6 hours of playback at 50% volume and about 2.5 hours at 100% volume.
Sounding off on the iLive Speaker
I guess one of the big questions about the iLive Bluetooth Speaker (ISB380B) is how good does it sound? Well, for the price point and the features, it's pretty good. However, I would have expected a bit more bass given the size of the 8″ full-range speaker assembly.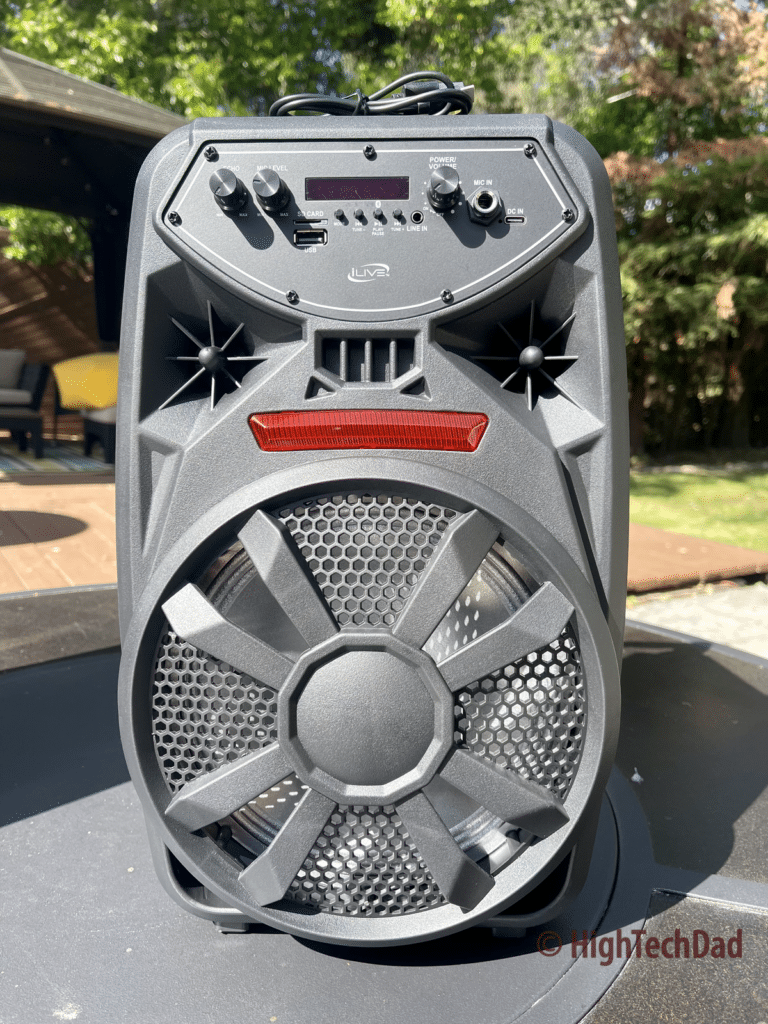 The sound is pretty crisp and clear at medium to medium-high volume, but the lows could be a bit better. But for the various use cases I described (listening to the game, music for parties, and even a Karaoke contest), it does pretty well. I did not notice any distortion at higher volumes, even when using the mic and the music simultaneously.
It is loud enough for parties or tailgates and even using it as a portable announcement speaker setup. It is definitely a required music-playing device for parties but also as an entertainment gadget to bring even more life to the party.
The iLive Bluetooth Tailgate Party Speaker retails for $69.99 on the iLive site and it is currently listed on Amazon for $43.68 (and an Amazon's Choice product). So if you can get it in the $40 range, I think it is a pretty good deal!
Shop on HighTechDad
The product shown below (and related products that have been reviewed on HighTechDad) is available within the HighTechDad Shop. This review has all of the details about this particular product and you can order it directly by clicking on the Buy button or clicking on the image/title to view more. Be sure to review other products available in the HighTechDad Shop.
The entertainment that comes from using the iLive Tailgate speaker is beyond value. A party is never complete without music, and when you bring your own personality to the song, the fun and laughter are limitless!
Disclosure: I have a material connection because I received a sample of a product for consideration in preparing to review the product and write this content. I was/am not expected to return this item after my review period. All opinions within this article are my own and are typically not subject to editorial review from any 3rd party. Also, some of the links in the post above may be "affiliate" or "advertising" links. These may be automatically created or placed by me manually. This means if you click on the link and purchase the item (sometimes but not necessarily the product or service being reviewed), I will receive a small affiliate or advertising commission. More information can be found on my About page.
HTD says: The iLive Bluetooth Tailgate Party Speaker is one of those devices that will bring the life to the party. It's portable, easy to use, and with a microphone attached, takes any backyard gathering or tailgate party to the next level immediately!
HighTechDad Ratings
Ease-of-Use

Family-Friendly

Price Point

Features
Summary
The iLive Bluetooth Tailgate Party Speaker is one of those devices that will bring the life to the party. It's portable, easy to use, and with a microphone attached, it immediately takes any backyard gathering or tailgate party to the next level! The iLive Bluetooth Tailgate Party Speaker is extremely easy to set up. Out of the box, when you turn it on, it will immediately go into Bluetooth pairing mode. Once paired, you can begin streaming music or audio immediately. To change input sources, just press the Mode button on the front to cycle between Bluetooth, Line In, FM radio, or other input sources. Scanning through FM radio stations is relatively easy as well as the iLive will stop once an FM station with a strong signal is encountered. If you plug in a microphone, you can have your voice on top of whatever audio source you choose. The mic has a separate volume knob as well as echo control. The more echo, the more of a "party!" Also, the 8″ speaker has color LED lights that respond to the music or audio, providing an almost disco-like experience. The bass is a little less than I would have liked, but still, the overall quality is pretty good.
Pros
Reasonably priced
Karaoke mode brings life to party
LED lighting is fun
Easy to carry
Cons
No built-in bottle opener (haha)
Bass is a bit weak for the size of the speaker