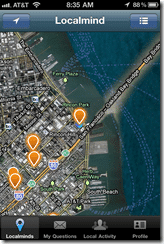 We all know about social check-in services like Gowalla, FourSquare and even FaceBook Places. These services allow you to announce that you are at a particular venue, event, company or location, quickly and easily all via your mobile device. With some, the more places you go, the more credibility and achievements you get (e.g., badges). Some people might question why anyone might want to do this. Well, now with LocalMind, a new service that was recently announced, you can actually get some value from these check-ins.
Personally, I don't use check-in services very frequently but I know many other people who do, all of the time. Those concerned with privacy probably won't be as active as those who travel, visit many locations or just want to share what they are doing. When I go to certain events, I check-in to just announce that I'm there and see who else that I know might be there as well. But that is pretty much it. There are obvious privacy and security concerns that you should think about when using these social check-in services (see this article on TechCrunch about PleaseRobMe.com). And this is one of the reasons why I stopped doing these check-ins.
That is, until I learned about LocalMind. What LocalMind does is actually add value to your check-ins, as well as provide value to others who might need information about the place where you are. Here's how it works in a nutshell, but I will go into it in more detail later. You first need to download and sign up for the LocalMind service. There is an iPhone app and an Android beta app currently. Then, you connect your social check-in services like FourSquare, Gowalla, Twitter or Facebook Places. The rest is pretty simple. You are ready to ask or answer questions about places that you are at or might be headed towards.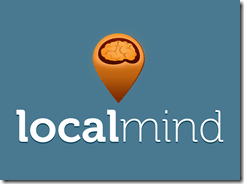 So, why would you want to do this type of thing? Sure, the social check-in services are fun…for a while, but if you are like me, they don't add too much value to your life. What if you wanted to know more about the place that you were going…like how long of a wait it is at a particular restaurant or if there are iPad 2′s in stock at your local Apple store. It's easy enough to just take a chance and go to the place and hope and pray that things will go your way. But with LocalMind, you can do some "research" ahead of time.
{ 1 comment }