When I was young, I played the piano. I was ok at it, did plenty of recitals and learned enough over 5 years to be able to still do some sight-reading even now. My middle daughter, who is 10 now, is quickly surpassing my skills, although for a while, I was able to sight-read some of her pieces so that I could help her. But she is much better than I am now.
My daughter is sort of a fly-by piano player. Our upright piano is right in the most highly trafficked area of our house. When she walks by it, she will stop to quickly knock out a quick piece. I consider her practicing to be more of "grazing" whereas when I practiced the piano, it was every day for about an hour a day. She is not able to practice as much as I would like, simply because she has an extremely busy schedule with 3 nights of 3-hour gymnastics practices and plenty of homework. And whenever we go on a road trip anywhere, she misses out on precious piano practicing time.
The other thing that she really enjoys is playing on her iPhone. A few months ago, I introduced her to GarageBand on the iPhone and she spent hours crafting pieces using the tiny little built-in keyboard and the built in effects and instruments.
Wouldn't it be nice for her to have a keyboard that could not only allow her to practice when she is on the go, but also would hook into an iPhone or a computer? I often thought about that ideal solution. Then I was introduced to Mobile Keys by Line6. It was the solution that we were looking for. For starters, the Mobile Keys can connect to iOS devices, as well as Macs or PCs. Do note, it is not a stand-alone keyboard, meaning that it does not have a speaker built into it.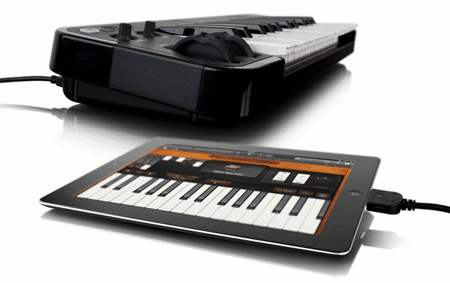 { 0 comments }