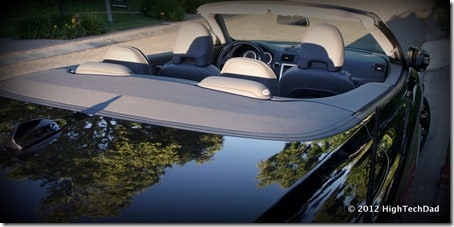 Test driving cars is truly a lot of fun and only over the past couple of years has it become regular content on HighTechDad.com. For me, I believe that cars are an important part of the family dynamic. They can be both utilitarian but also define the family persona. There may be one car that you use to do the food shopping and a different one that you take on vacation. Many times the vehicle's functionality or style defines how the vehicle will be used.
But then there is the car that, by itself, creates it own aura and feeling when you drive it. Our family found that the 2012 Volvo C70 Convertible made us feel like we were on vacation every time we lowered the top and headed off down the road. We loved the feeling that the C70 gave us so much, that my wife and I got into fights over who would get to drive it for the day. I'll be you can guess who won! It wasn't me!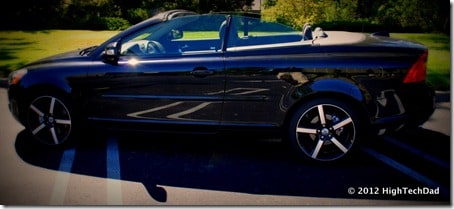 But I did spend enough time behind the wheel to understand why she fell in love with the C70. Driving around with the top down is liberating and invigorating. It makes you feel the wind in your hair and the sun on your head just a bit differently.
Many years ago, my wife and I were looking to get a used Volvo XC70 wagon with the "tailgunner" seat (as I have always called it). But then we had 3 children and realized that it would be more practical to have a mini van. Even well before kids were in the picture, we had a convertible when we honeymooned in Maui. So the combination of safety, style and elegance coupled with the ability to "go topless" was truly appealing.
{ 3 comments }