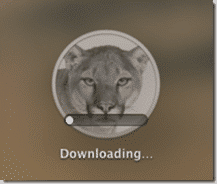 As many people know, Apple's new Operating System, OS 10.8 – a.k.a. "Mountain Lion," is officially available for purchase and download. Just head over to the Apple App Store on your supported Mac and purchase and install Mountain Lion now! As part of the upgrade process, your Emergency Recovery Boot Partition will be upgraded to support re-installs of Mountain Lion without the need for an external installer. But what if you want to install Mountain Lion on another computer (that is supported)? There is a way to easily do this, but remember, you should only do this with computers that you own or manage (and you wouldn't need to do this if you had all of your computers use your Apple ID in the App Store – you would just install right from there).

So, if you do want to create an installer DVD (and you could do this with a USB drive as well), here are the steps to do so.
NOTE: The expanded size of the Mountain Lion installer will NOT fit on a single-sided DVD. You MUST have a dual-sided DVD in order to burn the DVD.
UPDATE 07.26.12 – Thanks to commenter Benoit's comments, you can now burn a single-sided/single-layer DVD. See updated instructions below.
{ 49 comments }