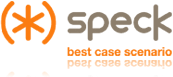 Looking for that perfect, stylish backpack for your wife or girlfriend or daughter? Want something that is not only durable but also functional? The Speck AftPack Backpack brings this and more in a package that blends contemporary elegance with urban functionality. At just under $100, it won't break your bank and will bring a utilitarian "hipness" to the scene.
My daughter called the Speck AftPack "fashionable" and my wife "loved the design" as well as commented on the number of useful pockets and compartments it had. The colors are darker browns and blacks (natural colors) and the patterns bold stripes or plaids. This particular pack comes in: "CoffeeHouse" Brown Plaid – shown below, and "Speakeasy" Black Pinstripe. Note, there are other models with the same patterns and colors but are different bag types: CorePack, PortPack and TuckPack. The material itself is hearty, durable and water-resistant, with double-stitched seams and bindings.
The front shows a larger useful pocket that has room for pencil cases, keys, wallet and other items that need to be quickly accessed.
Contoured and fully padded shoulder straps include a chest strap to further secure the AftPack to your body should you be riding a bike or exercising. It also helps to distribute the weight a bit.
The insides boasts a lot of space for binders, books and other items. There are several inner pockets as well to hold changes, library cards, etc.
Also, there is a "media player" pocket with a headphone pass-through which allows you to keep your iPod or iPhone safe inside but allow the headphone jack to come through the top of the backpack.
There is a micro-fleece padded laptop holder that can fit up to a 17″ laptop. Seen here is a 15″ Mac PowerBook G4 which has plenty of room yet is securely held. Speck claims that the AftPack will hold laptops of the dimensions: 2 inches thick, 10.5 inches wide and 16 inches long. One of really great features, seen here, is the ability to remove the laptop without actually opening up the backpack fully. Behind the backpack straps is a zipper which opens to unveil the compartment for the laptop. This same compartment is also accessible when you open the back pack fully from the top.
My daughter helped model the AftPack. Obviously it is a bit large on a 10 year old, however the size is very good and could almost be used for children. Being able to actually carry a 17″ laptop is a plus as many people are starting to ditch desktops for larger, portable laptops. Handling these larger form factors is important. This backpack is a great size for teens and adults.
The front pocket has a lanyard for attaching one's keys.
There is a great little bottle holder on the outside of the pack that zips away when not in use.
All in all, this backpack is a real winner and is covered by Speck's 1 year limited warranty. There is a nice tuck-away carry handle that actually has its own zippered enclosure to fully hide the handle when not in use. The various patterns hide dirt well, but should you need to clean it, just use a slightly wet, clean cloth (no soap) on the surface to remove stains or dirt. Should you need a replacement strap or buckle, simple contact Speck for one.
I must say that this backpack really stands out from others that you see out there. It can be dressed up or down, depending on the occasion. There is ample room for all of your cords, books, binders and other accessories and plenty of pockets and compartments to stash your loot. This is definitely not one of your "run of the mill" types of backpacks!
HTD Says: Give Speck's AftPack a look, especially if you are considering a stylish yet functional backpack that will stand the tests of time in terms of durability and design.