So you got a new iPhone 14 as a gift or for the holidays! Congrats! The first thing you need to buy to accessorize it is more to protect your investment. You don't want a naked iPhone 14, you want it securely encased, AND you want to make your iPhone 14 look good in the process. This is where you should take a look at the Mujjo leather case collection to find something that both protects but also looks good in the process! (*Disclosure below.)
I have a pretty high standard when it comes to protecting your iPhone. There are some prerequisite features that I have trained my family to look for when getting an iPhone case, and I'm happy to say that my family does ask me if a case is good or not before they purchase one. In fact, I often recommend getting a case BEFORE you actually get the iPhone so that you can immediately use the case to protect your iPhone, especially since iPhones these days cost well over $1000.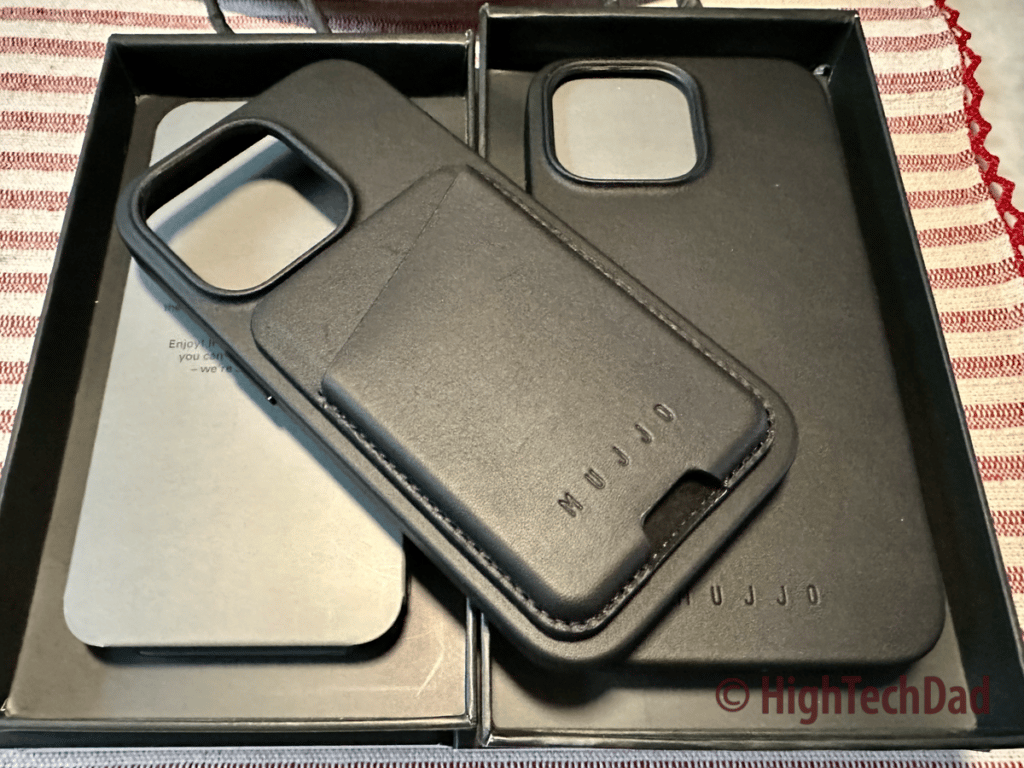 Thanks to Mujjo, I got my hands on a couple of their leather cases, the Mujjo Leather Case for iPhone 14 Pro and the Mujjo Leather Case for iPhone 14 Pro Max. And, Mujjo has a nice add-on accessory to these iPhone 14 cases, the Full Leather Magnetic Wallet. Mujjo does have an iPhone 14 case that has a wallet built into it; however, I think the better option is to have the magnetic wall so that 1) you can use it only when you need it, 2) you can use the Magsafe charging with the case, and 3) you can share the wallet if more than one person has iPhone cases that support Magsafe.
Table of Contents
What I look for in a protective iPhone case
My requirements for a good iPhone case are pretty basic. But there are some things you MUST look for; otherwise, you risk potentially damaging your iPhone if you drop it or it slides across a rough surface.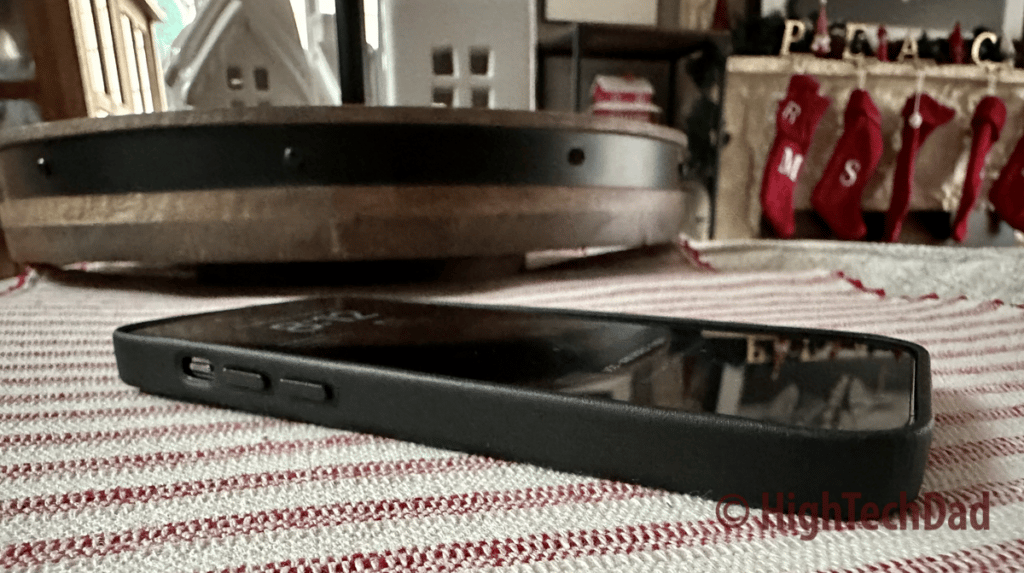 The iPhone 14 is much more resilient to damage, I believe. And its repairability has improved as well. That being said, you still need some core "defense" to protect your iPhone. So here is my short list of things to look for in an iPhone case:
Snugly hold the iPhone – honestly, if you can remove your iPhone very easily, it might not be fully securing your iPhone.
Bezel for lens protection – the lenses of the iPhone stick out. You need to be sure that a case provides extra protection.
Bezel for the screen – if your iPhone slides across a rough surface, the case should provide all of the protection, so the screen doesn't get scratched.
Speaker openings – be sure that the speaker holes match the latest version of the iPhone so that you get full sound capabilities.
Buttons or holes for buttons – many cases have buttons built-in. Be sure these are well constructed and attached. Sometimes there are simply holes for buttons that might be hard to access. The vibrate toggle often is just a hole which is fine, provided you can access it.
Soft liner inside -you may want to have the inside of the case lined with fabric or felt or something, provided that the case supports that. Some plastic cases might not have that, so be sure you fully clean the inside of the case and your iPhone before putting your iPhone in it.
Wide port for iPhone charging cable – third-party cables sometimes are a bit bigger, so you want to ensure that the cut-out for the charging port is large enough for other cables.
Thin – if you are planning on using a Magsafe connection, you need to ensure that whatever material is used is relatively thin so that the magnet can hold your iPhone securely.
Durable material – the case is supposed to take the brunt of the damage. If your case breaks and your iPhone doesn't, it has done its job!
How do the Mujjo Leather Cases stack up against my requirements? Pretty darn well, honestly. I can literally go through the list above and put a "Yes" next to every item.
I do want to expand a bit more on the Durable Material point a bit. There are many different types of materials out there for iPhone cases. I don't usually recommend hard plastic. It looks and feels kind of cheap and can crack if dropped. When I am active, I use a durable, clear hard-gel cover that has Magsafe magnets built in. It is a bit thicker, but since the magnets are built into the case, it is held quite securely.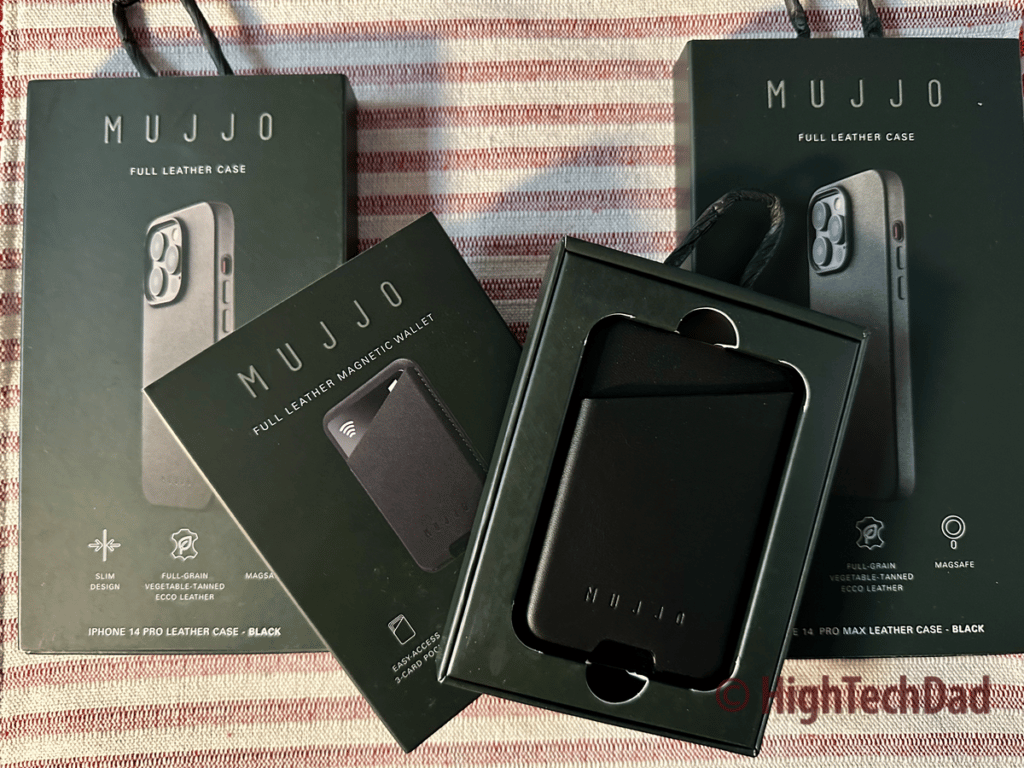 But when I want to take a more elegant route, this is where the Mujjo Leather Case comes into play. Let me talk about and show a few of things items within the design of the Mujjo Leather Case for iPhone 14 Pro and iPhone 14 Pro Max.
The Mujjo Leather Case for iPhone luxurious yet protective design
Let me start with the inside of the Mujjo case – it uses Japanese microfiber to pamper your iPhone when it is inside. This will prevent scratches, hopefully, to the body of your iPhone.
The case itself, as well as the magnetic wallet, is made out of vegetable-tanned Ecco leather. The vegetable-tanning process (which I outlined in another Mujjo review of their vegan leather laptop case) is much more environmentally conscious, as traditional tanning can use many harmful chemicals.
The nice thing about leather is that it provides protection but also ages gracefully over time (provided the leather quality is good). And, with the Mujjo leather case, you will have a patina develop over time that makes your case look unique.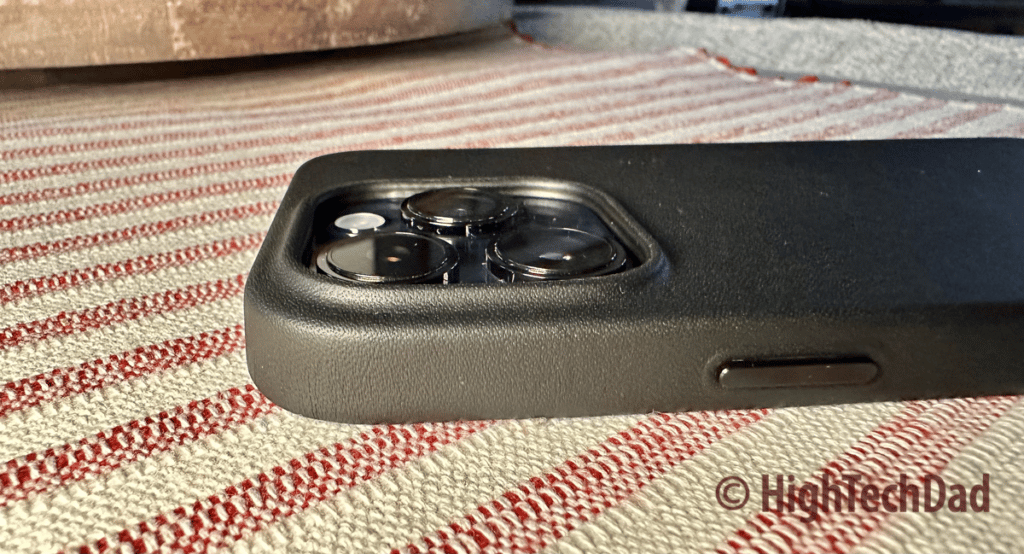 There is a nice bezel bump to protect the various camera lenses of the iPhone 14 Pro. This is important, especially if you put your iPhone down on its back.
Similarly, the bezel around the screen has a 1mm rise to it which means that if you put your iPhone face down, the screen is not touching the surface. And, if it slides across the ground, again, the screen is protected.

The speaker holes are cut to support the different-sized speakers on the bottom of your iPhone 14, so the Mujjo case is custom-made specifically for the iPhone 14 Pro. And the charging port hole is wide enough to handle larger cables.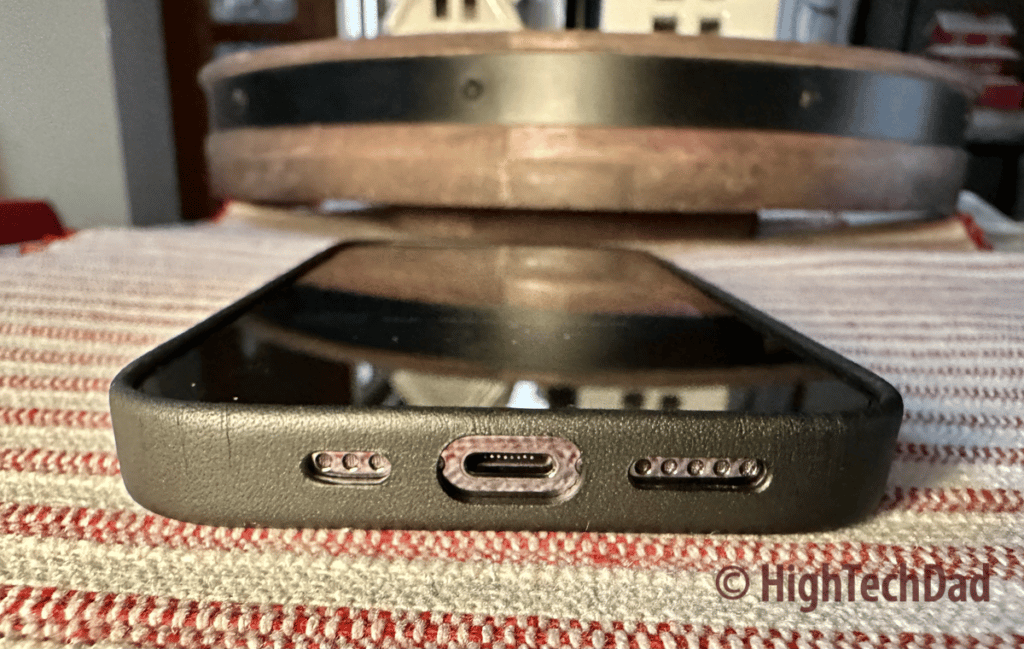 The power button and the volume buttons are built into the case. They are made out of machined metal so that you can truly feel the clicks. The vibrate toggle is a cut-out hole.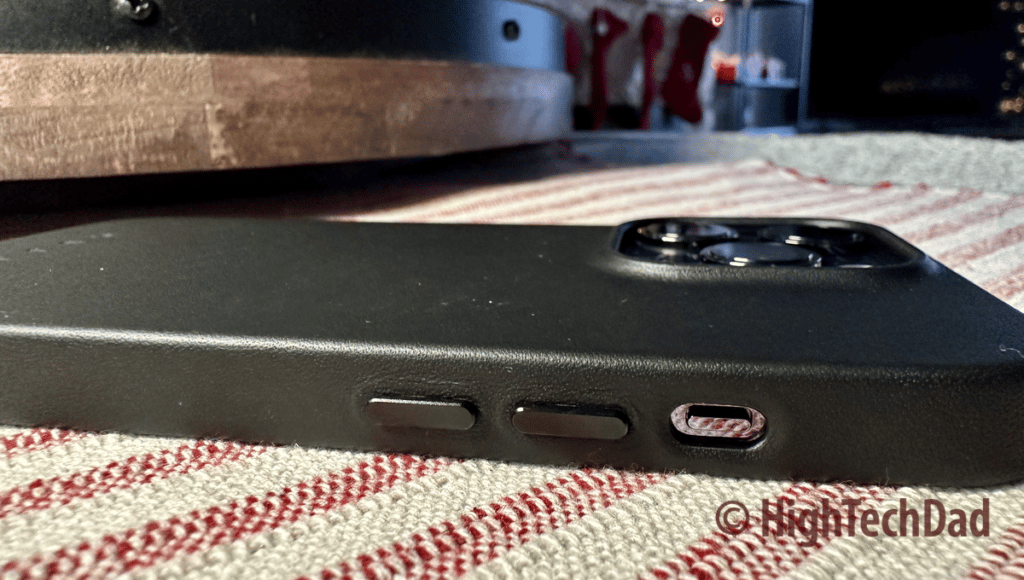 The Mujjo case is thin enough to attach to MagSafe accessories like chargers as well as to attach the Mujjo Magnetic Leather Wallet. It is important to note, however, that there are NO magnets in the Mujjo case itself, so the magnetic connection won't be as strong as with those cases that do have magnets within them.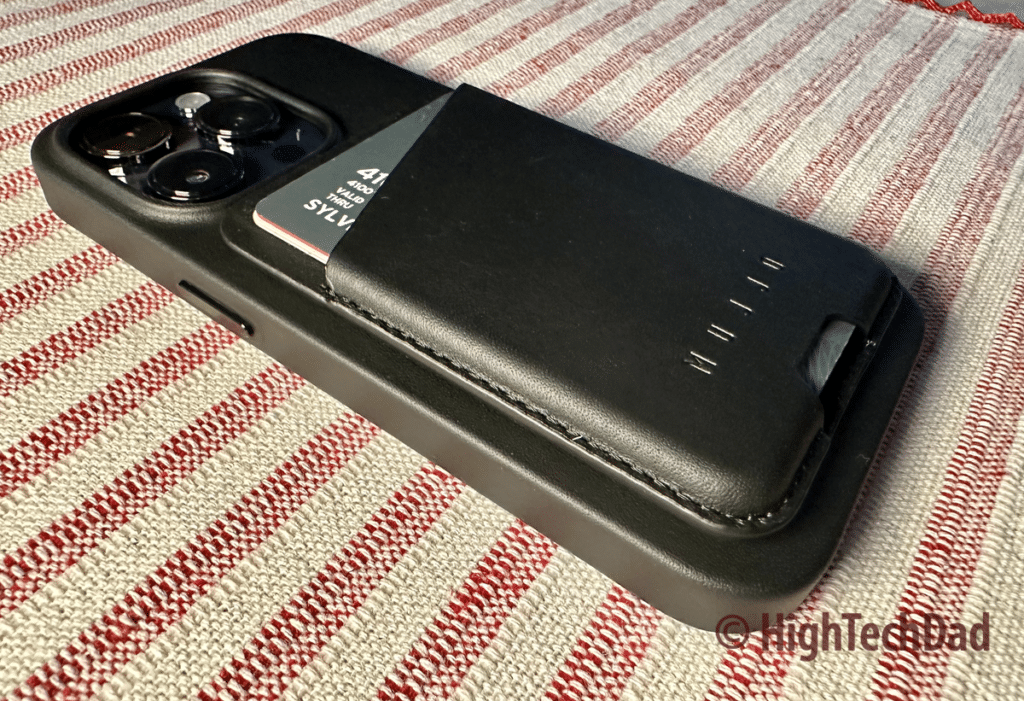 Let me quickly talk about the Magnetic Wallet. It integrates nicely with both the iPhone 14 Pro and iPhone 14 Pro Max cases by Mujjo. The connection is quite strong, so you won't have the wallet come off easily. It holds three cards securely (ID and credit cards). There are some silicon strips on the backside touching the iPhone case that prevents slippage. It also is lined with microfiber and uses the same leather as the iPhone cases.
The price of luxury protection
Again, when you think about the cost of an iPhone 14, you need to build in an additional cost to protect it. For this reason, I would not be cheap when it comes to getting an iPhone case to protect your investment.
You can save some money if you buy a cheap case made out of plastic or even fake leather, but since most people hold their iPhones most of the day, you may want to have something that looks a bit more elegant instead of cheap.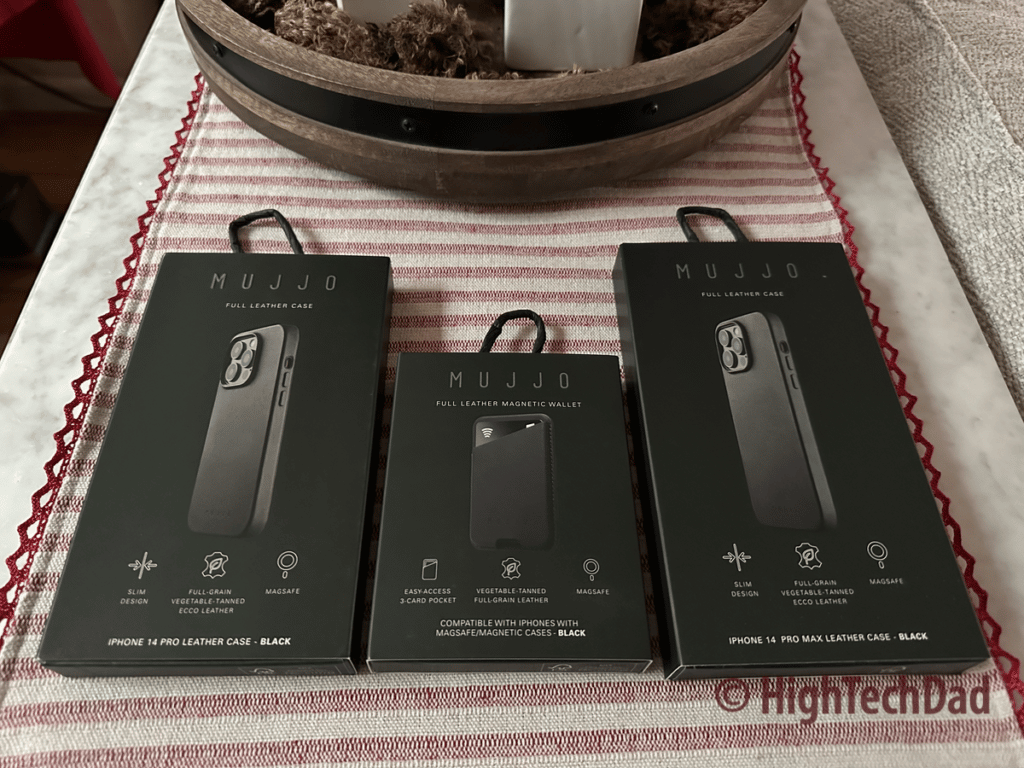 The Mujjo Leather Cases and Magnetic Wallet are neither inexpensive nor expensive. I think they hit a pretty good middle ground in terms of price point. In fact, both the leather iPhone case and the wallet are slightly less expensive than Apple's version (with the big difference being that MagSafe is built into the wallet and case).
Below are the prices of the Mujjo iPhone Cases and Wallet on the Mujjo site as well as on Amazon:
Shop on HighTechDad.com
The product shown below (and related products that have been reviewed on HighTechDad) is available within the HighTechDad Shop. This review has all of the details about this particular product and you can order it directly by clicking on the Buy button or clicking on the image/title to view more. Be sure to review other products available in the HighTechDad Shop.
If you got a new iPhone 14 over the holiday or just did an upgrade, getting a stylish new protective case should be part of that process and the first thing that you purchase as an accessory. Mujjo offers a variety of elegant leather cases for various iPhones (from X to 11 to 14 and all models in between). Be sure to check them out as you accessorize your new iPhone 14!
Disclosure: I have a material connection because I received a sample of a product for consideration in preparing to review the product and write this content. I was/am not expected to return this item after my review period. All opinions within this article are my own and are typically not subject to editorial review from any 3rd party. Also, some of the links in the post above may be "affiliate" or "advertising" links. These may be automatically created or placed by me manually. This means if you click on the link and purchase the item (sometimes but not necessarily the product or service being reviewed), I will receive a small affiliate or advertising commission. More information can be found on my About page.
HTD says: The iPhone 14 demands to be showcased! But it also needs to be protected! Mujjo offers a variety of genuine Ecco leather iPhone 14 cases to safeguard your investment and look stylish in the process!