If you haven't tried Active Noise Canceling (ANC) headphones, you are really missing out. It's a technology that actively monitors the ambient noise and then instantly generates the inverse sound wave which effectively cancels out the noise. If you work or travel in a noisy environment, ANC is a lifesaver, or rather, a hearing saver! There are many big-name brands out there who offer Bluetooth headphones for several hundred dollars, but many of us may be priced out of this type of audio solution. And that's where the sub-$100 dyplay ANC Over-Ear Wireless Bluetooth headphones  (the dyplay Urban Traveller) are a great alternative to the pricier brands. (*Disclosure below.)
At my work, there is a loud blower fan that comes on every few minutes. While I often like white noise to help focus, this verges on being a bit too loud. My earbuds worked ok at canceling out some of the noise, but I like the comfort of padded, over-the-ear headphones much more. It was, I felt, a perfect environment to test the active noise canceling power of the dyplay. And, of course, I like listening to music, at times, while I'm working. So, that would be test #2. And comfort is just as important.
I have put these dyplay ANC headphones through a standard workplace test as well as on my commute. I also have hijacked other people's ears at work to have them test out the noise-canceling feature. Everyone seems to be quite impressed, and asked if it was a big-brand name to which I answered: "Nope, it's a couple of hundred dollars cheaper though."
Full-Featured ANC Headphones
The dyplay Urban Traveler is an inexpensive alternative to high-end ANC headphones with a bunch of similar or equal functionality, including:
Active Noise Canceling
Wired & Wireless Mode
Mic & Hands-free calling
Dual microphones
40mm drivers
4.1 Bluetooth & EDR
28-32 dB noise reduction
Rechargeable 500mHa battery that can last well over 10 hours
Lightweight – 8.5 ounces
And more!
If you are looking at other headphones, check for some of those features and then look at the price.
Active Noise Canceling is a Critical Feature
Let's start with the Active Noise Canceling. As I mentioned, two mics monitor the outside noise from offices or travel. These noise waves are then dampened by producing an inverse sound wave. While it doesn't block out everything, it does a reasonably good job at blocking out those annoying ambient noises.
There is a switch on the left-headset side that turns ANC on or off. You can use the dyplay headphones with only ANC active. You also don't need to be listening to Bluetooth audio. And, you can use just Bluetooth without ANC active. I pretty much use ANC on all of the time.
Another thing to note, ANC will not work if you use the 3.5mm plug. Having the 3.5mm plug option is actually pretty important. If you run out of battery to power the Bluetooth mode, you can just plug in the 3.5mm cord and continue to use the headphones.
Stellar Battery Life
Battery life is actually quite good. I used the dyplay headphones for a full day of work, about 8 hours. I had ANC active and Bluetooth on and paired to my laptop. I didn't turn off either of the two items that use power (ANC & Bluetooth), and the battery lasted the entire day. Charging is indicated through a tiny LED light. When it is red, it is charging, and when it is off (but plugged in), it is fully charged.
According to dyplay, you can use Bluetooth-only mode for about 15 hours, Bluetooth & ANC for about 12 hours, and ANC-only for about 24 hours. To fully charge the dyplay headphone which uses an included micro-USB cable takes between 2 to 3 hours.
Using Bluetooth
Pairing with Bluetooth is quite easy. On the right headset, there are three buttons, + Power and -. Long-pressing the power button will initiate pairing mode. When in pairing mode, the power/Bluetooth button will start flashing rapidly. Simply select "dyplay urban traveller" from your Bluetooth device.
I was able to have two devices connected simultaneously to the Urban Traveller. But, I would recommend if you do have two active Bluetooth connections that you disconnect the one you don't want to use. Otherwise, you may have some cut-outs on the audio.
The Bluetooth range is approximately 33 feet, but for the best, non-cutout performance, it's better to be a bit closer to your Bluetooth audio source. Another critical thing to note, if you are paired to a Mac and you have an application that actively uses a microphone (like WebEx or Skype), you may experience reduced audio quality. Simply quit that application, and your audio quality will improve. When in 2-way, lower-quality audio mode (HSP), high-quality A2DP is disabled. This Apple Support article provides some details.
When you pair the Urban Traveller with your smartphone, you can use it for voice calls as well. You use the power button (which also acts as play/pause) to answer or hang up calls. The three buttons also function as next or previous track when listening to music. You do that via long pressing the plus or minus buttons. Short-pressing the power button powers on or off the dyplay Urban Traveller.
Lightweight and Capable Headphones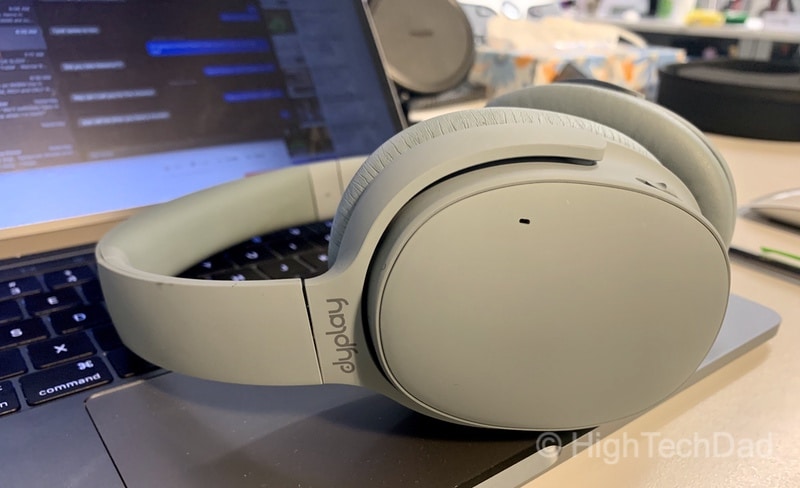 These headphones are very lightweight, only weighing about 8.5 ounces. The earpads are quite soft and padded. I wore them for almost 5 hours straight, and they were extremely comfortable. Sound didn't bleed out too much to the outside, even at medium volumes. At higher volumes (and the dyplay Urban Travelers can output pretty high volume), there is some noise bleed (but your ears may also start bleeding in the process – haha).
The Urban Traveller headphones come with a hard case for added protection when traveling. You can store the two cables (micro-USB and 3.5mm audio cable) as well. The Urban Travellers earpads swivel to fold somewhat flat, making them easier to store.
Oh, and what about the sound quality you ask? I prefer listening to music with the ANC active. It actually seems to make music sound crisper with stronger bass. This could be due to the elimination of ambient noise, but I felt that the music quality was amplified a bit. Overall, I didn't perceive any noticeable distortion, even as maximum volume. At a reasonable volume, music was clear and crisp for highs, and definitely strong for the lows. Quite enjoyable, actually!
Features Packed Into a Low Price
So with a long-lasting (all-day) battery, active noise canceling, Bluetooth or corded options, and extremely comfortable for long listening sessions, I was simply amazed at the price. Currently, the dyplay Urban Travellers are listed for $62.95 on Amazon!
Shop on HighTechDad
The product shown below (and related products that have been reviewed on HighTechDad) is available within the HighTechDad Shop. This review has all of the details about this particular product and you can order it directly by clicking on the Buy button or clicking on the image/title to view more. Be sure to review other products available in the HighTechDad Shop.
At this price point, the dyplay Urban Travelers are a steal if you ask me. You get all of the functionality found in many higher-end headphones, but at a price that lets you buy some for the entire family. The ANC works exceptionally well, they are comfortable, they are capable from a features standpoint, and the music output is quite decent.
Disclosure: I have a material connection because I received a sample of a product for consideration in preparing to review the product and write this content. I was/am not expected to return this item after my review period. All opinions within this article are my own and are typically not subject to editorial review from any 3rd party. Also, some of the links in the post above may be "affiliate" or "advertising" links. These may be automatically created or placed by me manually. This means if you click on the link and purchase the item (sometimes but not necessarily the product or service being reviewed), I will receive a small affiliate or advertising commission. More information can be found on my About page.
HTD says: Don't pay hundreds of dollars for name-brand noise-canceling headphones. In most cases, you are paying for the name. The dyplay Urban Traveler ANC headphones are more than comparable, but at a price point that everyone can afford!
HighTechDad's Ratings
Ease-of-Use

Family-Friendly

Price Point

Features
Summary
Don't pay hundreds of dollars for name-brand noise-canceling headphones. In most cases, you are paying for the name. The dyplay Urban Traveler ANC headphones are more than comparable, but at a price point that everyone can afford! Pairing is extremely easy, and you can have two devices connected at the same time (e.g., laptop and phone). However, for best audio quality, I would recommend only having one device connected at a time. In terms of sound, the highs are crisp and the bass does thump. But the best feature is that of the Active Noise Canceling (ANC) which works extremely well and you can use ANC without having to play audio also. They are independent. In terms of cost compared to features, the dyplay Urban Traveller can't really be beat. 
Pros
Full featured
Great noise canceling
Long battery life
Comfortable
Nice sound
Cons
Limited color choices
Uses old micro-USB for charging (USB-C would be better)