Father's Day and Graduation for 2023 are converging like a perfect storm of dad jokes and celebratory caps! You may or may not be struggling to find the ultimate tech gifts for your pops and that fresh-faced graduate in your life. But in case you ARE wracking your brain to find that perfect tech gift for that dad or grad, I am here to save the day with my arsenal of pun-tastic humor…and some recommendations for tech gadgets or products that I have tested and tortured! (*Disclosure below.)
Presenting the 2023 HighTechDad Dad & Grad Tech Gift Guide, where gadgets and gizmos unite to make dads and grads jump for joy! Now, this list may not be as long-winded as your Dad's stories at the dinner table, but it's jam-packed with treasures I've personally put through their paces. I've been busy testing gadgets, so you can focus on nailing those dad-approved punchlines or figuring out how to nag that grad about getting a job already!
To keep things as simple as a dad's favorite one-liner, I've divided this guide into two sections. The first section will whisk you away to full reviews that'll have you saying, "That's tech-tastic!" The second section makes your shopping experience hopefully a bit pain-free—the HighTechDad store! Just click on the picture or the linked title, and voila! You'll find yourself in a tech gift wonderland fit for a dad-grad duo!
Don't want to read my dad-ramblings? Just use the table of contents below to move me on down the road.
Table of Contents
Drumroll…2023 HighTechDad Dad & Grad Tech Gift Guide
Now, pay attention, folks. Each product description has a link that says, "Read the full review on HighTechDad." It's like uncovering a treasure map to dad-approved wisdom, well…at least mine (around that particular gadget). Click on it, and you'll discover all the juicy details that'll have Dad nodding in approval (and the grad thinking, "Wow, this gadget is cooler than my diploma!")
But hold your horses, there's more! When you're ready to make their dreams come true, seek out that "Buy" button. With just one click, you'll be whisked away to a realm of secure transactions, where you can snag those coveted gadgets without breaking a sweat. HighTechDad.com doesn't mess around with the money stuff—all of the purchases take place either on Amazon or the product site directly! Easy-peasy!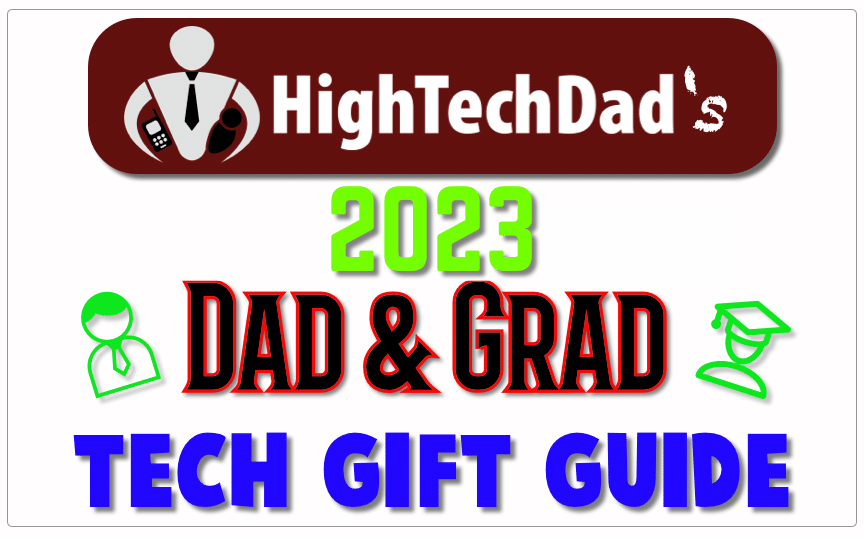 If you're hungry for even more tech goodies, head over to the Shop section of HighTechDad. It's a cornucopia of categories where you can unleash your inner shopaholic and find the perfect gift that screams, "Dad, you're the pun-derful role model I aspire to be!" Or "Grad, I'm so proud of you – here is something bright and shiny to distract you even more!"
Oh, before you embark on your epic tech shopping quest, here's a little bit of info: those links in my HighTechDad Dad & Grad Tech Gift Guide? They're affiliate links! When you use them to make a purchase, I earn a tiny commission—a dad-sized pat on the back, if you will. It helps keep the HighTechDad wheels turning, so I can continue to bring you the latest and greatest tech reviews and articles.
So, get ready to celebrate in style! Explore the 2023 HighTechDad Dad & Grad Tech Gift Guide, and let's shower Dad and the grad with gifts that'll make them chuckle or leap with joy.
Some quick recommendations
Lazy? Want a quick teaser on the gadgets I've reviewed recently? Don't want to read thousands of words in my individual reviews? (I do tend to ramble on and on and on…I am a big of an "old guy" who just likes chatting.) Well, below are a couple of 1-2 liners on those products that are listed in the section below that (the one just with those pretty images, catchy titles, and yes, the dollar amounts – and that "buy" button).
Like an organized tool bench, I have grouped some of these products together, otherwise, things could get a bit chaotic, and that's the last thing I want.
iPad and iPhone
Does the dad or grad have an iPad or iPhone? This is the section to read. For the iPad, I reviewed two protective keyboard cases, the Zagg Pro Keys and the Logitech Combo Touch. And you can watch my head-to-head video below on it to learn the differences between the two.
If dad or grad has an iPhone, you will want to take a look at the Mujjo Leather iPhone cases and the Leather Magnetic wallets. These will make dad or the grad feel a bit fancier or business-like, and they protect the iPhone and store credit cards well together.
Gadgets for the Office
If dad or the grad does a lot of video conferencing (like I do), or maybe they have a super-popular podcast or YouTube channel, or maybe are a TikTok influencer (older dads might not know about that – or maybe they do and have a super-popular channel and just aren't telling you), well, you want to make sure their audio game is dialed in and at its best. The Dark Matter Sentry Streaming Mic can definitely help with that!
If they are a digital artist, take a look at the Wacom Intuos Tablet – it plugs right into your Mac (or connect via Bluetooth). This is a great entry-level to almost-pro tablet to bring out that digital artist in your dad or grad.
The HyperDrive Thunderbolt 4 Power Hub makes your desktop environment even more powerful with the ability to hook up Thunderbolt (or USB-C) displays, hard drives, and other accessories to your Thunderbolt-capable computer. This is NOT just a charging hub – this is a fully integrated high-speed hub.
Lastly, if they have a laptop and you really want to up their image (like for that job interview you are pushing your grad to do so that they finally get off the sofa), take a look at the Mujjo Envoy Laptop Sleeve.
Wanderlust & Travel Gadgets
Everyone loves to travel, right? When I graduated, I went and lived in Madrid, Spain, for two years (living life and avoiding that "real job"). One thing that was always a bit tricky was figuring out the voltage and plugs overseas. And nowadays, it's even harder with all of those gadgets! Luckily the UGREEN 65W Nexode Travel Charger helps you charge your gadgets when you are abroad!
And when I traveled eons ago (as my daughters like to remind me), we used to carry around physical phrase books when we went to different countries. You really don't have to do that anymore, and the Timekettle Fluentalk T1 Portable Translator is a perfect travel companion for real-time translations and a whole lot more!
Around the Home Devices
All dads and grads LOVE power (I'm not talking about asserting that strong will over others though). I'm talking about the electrical kind. First off, the Runhood Rallye 600 Battery Power Station ensures you have uninterrupted power on the go, for emergencies, or just taking camping or to the beach. It's hot-swappable (much like those dad jokes where they just keep coming and coming without end). What do I mean about that? Read my review, or watch my LONG video review (of a dad rambling on and on).
This next home gadget is really cool…literally! It is a powered ice chest cooler. The Newair 48qt Portable Electric Cooler lets you keep your beverage cool and even has a freezer compartment! Great for on-the-go or just hanging in the backyard – without having to run to the convenience store to get bags of ice!
Want to keep an eye on the homestead? The Nooie Cam Pro is an easy to set up wireless security camera solution to ensure your "compound" has eyes everywhere. Let dad watch the kids remotely or keep and eye on the grill.
Do you see a theme here? Grilling, cool beverages, portable power, watching the party? Well, your dad or grad needs some entertainment as well! The JBL Pulse 5 Portable Speaker not only provides sound but it also has a light-show built into it!
For the athlete dad or grad
Watches are always a safe bet! I must have like ten various types of watches I have collected over the years. But if that dad or grad is an athlete (or you want to nudge them along to getting more in shape and mellow out that beer belly or whatever), take a serious look at the Suunto 9 Peak Pro Multi-sport Watch. With a bazillion workouts that can be tracker (even fishing), it's sure to be a winner!
All recently-reviewed tech products reviewed by HighTechDad
OK, here is, essentially, that "cheat sheet" of recently-reviewed gadgets. I sure as heck hope the grads DON'T know what a cheat sheet is! For those shopping for the dad or grad, here are my recently reviewed products.
And a quick hint, I have other gift guides available from the Holidays and Dad/Grad occasions – and, since those gadgets may be a bit "older," they might be more discounted. Check out my 2022 Tech Holiday gift guide and my 2022 Father's Day gift guide for more ideas.
Remember, if you DO want to deep-dive into the review, just click on the image or the title!
I hope you find my recommendations and reviews helpful. If you have questions, please feel free to leave a comment. And, while I haven't tested every gadget under the sun (wouldn't THAT be a dream job), being a dad, I do have some pretty strong opinions. Dads are always right, though, remember that, and we can be a bit grumpy at times. So just pat us on the head and say, "it's ok, you have great ideas, Dad," and we will be happy!
Disclosure: I have a material connection because I received a sample of a product for consideration in preparing to review the product and write this content. I was/am not expected to return this item after my review period. All opinions within this article are my own and are typically not subject to editorial review from any 3rd party. Also, some of the links in the post above may be "affiliate" or "advertising" links. These may be automatically created or placed by me manually. This means if you click on the link and purchase the item (sometimes but not necessarily the product or service being reviewed), I will receive a small affiliate or advertising commission. More information can be found on my About page.
HTD says: Happy Father's Day and congratulations to the grads out there! Remember, buying tech for a dad or a grad doesn't have to be complicated or confusing – well, it does depend on the gadget, I guess. But HighTechDad is here to help you out if you need it.