The 2022 Holiday Season is upon us – gasp! And it seems like the sales are starting earlier and earlier each year. So, as per tradition, I have compiled my Tech Holiday 2022 Gift Guide, which consists of products I have reviewed on HighTechDad (or I may still be in the process of testing for a review). Do note, I play with and research many different types of devices and haven't always reviewed them, so please feel free to leave a comment or question about other types of tech or gadgets you have questions about.
I have a HighTechDad "shop," which contains direct shopping links to many items I have reviewed over the past couple of years. And I do have several gift guides from the past several years (for holidays, Father's, and Mother's Day recommendations) that you can peruse. Who knows, you may find something for your loved one on one of those older lists (at a good discount)!
What you can find in this 2022 Gift Guide are items that I have reviewed since Father's Day of this year (for the gadgets from earlier this year, take a look at my 2022 Father's Day Gift Guide). It's been a bit of a busy year for me with family and work, so I don't have the volume of products I did compared to past years, but there are definitely some winners on this list!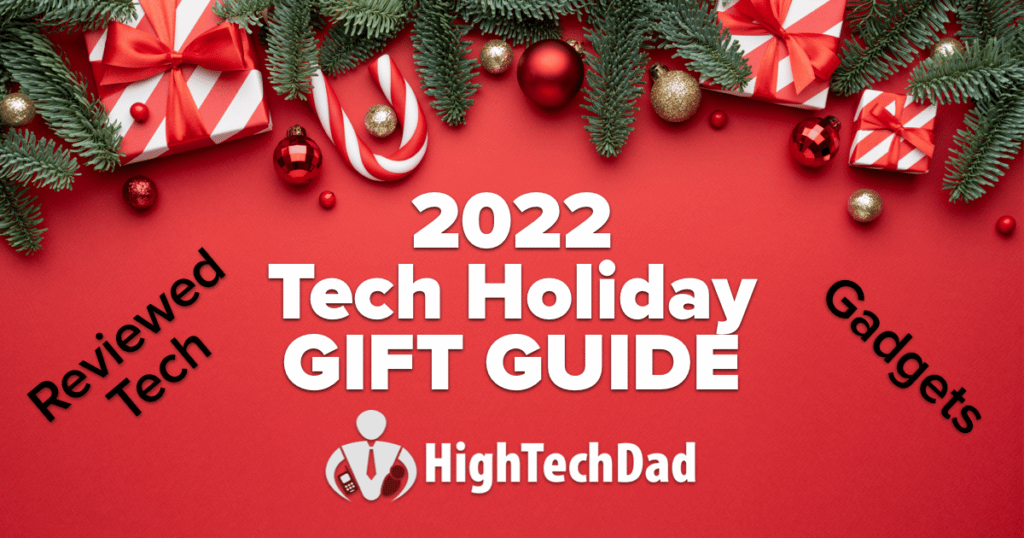 I have broken these down into categories, and while they are typically "electronic," not all of them are.
What to get your loved one?
As mentioned, I tend to focus on tech as that is the type of topic I find a lot of fun. But I also have spent a lot of time this year exploring lots of other tech and software, so I have those in a few other ideas as well.
With so much tech and gadgetry out there, it really is hard to know what to get that special person in your life. Would they want the latest Apple product, and if so, which one? How about a 4K TV? Or something to make their home "smarter?" Or maybe some sort of electronic peripheral to go with other electronics you have?
The items below are categorized loosely into powering your tech, stuff for around the home, and then some other random things that I haven't actually reviewed yet.
Powering your Tech
Let's start my 2022 Gift Guide with gadgets that can power your tech. It is pretty rare to find devices that don't require some sort of power source or power supply, so this is a pretty "powerful" category.
UGREEN is a company that I have really grown to like. They produce a variety of power-related or charging solutions for your devices. Check out their USB wall plugs (45W and 140W), the DigiNest Pro (that has USB ports AND plugs), or the 200W USB-C Nexode charger.
The GENEVERSE HomePower ONE is a battery backup solution that can be charged from a wall plug, your car, or via the included solar panels. These are a must-have for emergencies or if you are out on the go!
Mophie recently came out with two portable batteries, one that can power your laptop and one with built-in USB-C and lightning cables. I used these recently on a trip and did not encounter charging anxiety.
If you are looking for something to power your laptop but is also an ergonomic stand with various ports (USB, Ethernet, HDMI, etc.), then you will want to look at the IOGEAR Dock Pro is an outstanding gift idea for students or mobile workers.
Around the Home
The "around the home" category has a pretty wide range of possible gadget ideas, and thus it is on my 2022 Gift Guide.
The 48″ Trendsetter smart fan by Smafan is a device that clearly spans tech and home. First, it is a modern-looking ceiling fan that can be controlled by a remote, but you can also connect it to Amazon Alexa to make it truly smart.
Epson has an amazing scanner called the FastFoto Scanner. Now, why would I put this in the home category? Mainly because it is a fantastic device for you to get all of those physical photos out of those boxes under your bed and digitized so they can be archived. And you can scan stacks of photos in literally seconds!
Sylvox recently released a 55″ QLED Outdoor TV that extends your digital entertainment to the backyard. This TV is designed to withstand the weather and is bright enough to be seen outside, even in partial sun. And it is a full-featured TV.
I recently added a couple of NewAir devices to my home-entertainment war chest. The NewAir Countertop Ice Maker produces chewable ice nuggets in minutes. And if you are a wine aficionado, you will want to look at the 46-bottle NewAir Dual Zone Wine Fridge. It's an elegant way to store and showcase your wine collection.
Let's pivot to your car for a moment. This is probably the ONLY item in this 2022 Gift Guide that doesn't require a power cord or batteries, just a bit of human power. The QUIXX Headlight Restoration Kit is an awesome way to get those dull and cloudy headlight covers bright again.
I reviewed a couple of HOKOLITE lights as well. Both are rechargeable. One is an extremely bright (6000 Lumens) spotlight, and the other is a 3000 Lumens Camping Lantern. They have different use cases, obviously, but definitely brighten up the environment in their own unique ways.
A Few Other Tech Gifts
As I have a full-time job, it is often difficult to find time to test products and then write reviews of them. I haven't yet reviewed the items below, but I have tested them out a bit. Definitely check HighTechDad in a few weeks for those reviews. They may magically also show up on the list in the next section.
If you are an athlete (runner, swimmer, biker, extreme outdoors person, etc.), you will want to take a close look at the Suunto 9 Peak Pro Watch. This watch will give you a ton of analytics based on your exercise and sleep, and a variety of other data is available within the companion app. It retails for $549.00 and is also available on Amazon for $549 as well.
The Canvia Smart Digital Canvas displays not only fine art but also your personal images or NFTs. You can set up playlists that showcase artwork in an amazingly realistic manner. The digital canvas retails for $521 and is available on Amazon for about $500 (depending on the frame color).
If you are a traveler or frequently interact with people who speak other languages, Fluentalk T1 Translator by Timekettle is one of those "must-have" devices! I have tested it with various languages and scenarios and must say I'm extremely impressed. It retails for $299.99 (on sale on the Fluentalk website for $224.99) and is currently on sale on Amazon for $269.99.
Lastly, there is the Nooie Pro Cam, a security camera for inside or outside your home. It sports a 2k resolution, and you can use it at night. They recently released a solar charger for it as well. Unfortunately, it is still in the box to be tested, but I do have some Nooie smart lightbulbs running in my office! The Nooie Pro Cam (2 cam and base station) retails for $299.99 and is available on Amazon for $259.99.
So, I haven't reviewed those products yet, but I have tested most of them. I'm happy to answer any questions you may have about them (or the other products listed here).
HighTechDad reviewed products – Tech Holiday 2022 Gift Guide
Below is a visual list of some of these products. The images link to the product page, which you can click through and see my full review. And all of my reviews have a star rating to give you some additional perspective. Click on the pictures to see a quick summary of the gadget, and then read the full review linked there.
If I review more products before the end of the shopping season, they will automatically show up here in this 2022 Gift Guide list, so be sure to check back!
Buying a tech gift for a loved one is always a complicated process. Unless you have some good recommendations, your choice could be hit or miss. Hopefully, my reviews, as well as this 2022 Gift Guide, have provided you with some additional ideas!
Disclosure: I have a material connection because I received a sample of a product for consideration in preparing to review the product and write this content. I was/am not expected to return this item after my review period. All opinions within this article are my own and are typically not subject to editorial review from any 3rd party. Also, some of the links in the post above may be "affiliate" or "advertising" links. These may be automatically created or placed by me manually. This means if you click on the link and purchase the item (sometimes but not necessarily the product or service being reviewed), I will receive a small affiliate or advertising commission. More information can be found on my About page.
HTD says: Happy Holidays and good luck with your tech shopping! I do hope my 2022 Gift Guide of tech and gadgets has given you some inspiration and ideas!