Father's Day 2022 is coming soon. And, I know how hard it is sometimes to find that perfect tech gift for your dad, husband, or father figure in your life. The list below contains gadgets, consumer electronics, and other items that I have reviewed on HighTechDad over the past year or so. This list is not exhaustive, as I have plenty of other gadgets on my list that I haven't had the opportunity to review. (If you have questions, just leave me a comment, or ask me on Twitter or Facebook.) That being said, this is the official HighTechDad Father's Day 2022 Gift Guide.
Hopefully, you will find this guide easy to use. There are two sections, one with links directly to the full reviews and one to the HighTechDad store with links to the actual products. Within the Shop on HighTechDad section, you can click on the picture or the linked title to open the Shop on HighTechDad section of the site. Within the product description, you will also see a link to "read the full review on HighTechDad." Clicking on that will give you a full, in-depth analysis of the product you are looking at.
Also, if you just want to purchase the product, click on the "Buy" button. This will open the store where you can get that gadget (e.g., Amazon or from the vendor directly). Again, NO eCommerce goes on within HighTechDad.com.
Another way to see all of the recent products that have been reviewed on HighTechDad is to head over to the Shop section of the site. There you can select different categories of products and browse through those products.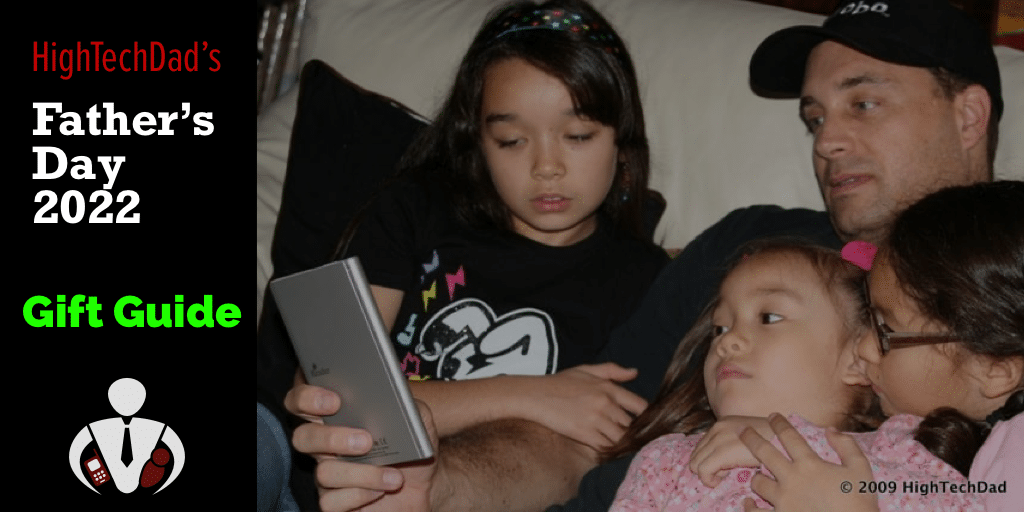 One last important note. These links in my Father's Day 2022 Gift Guide are affiliate links. For those products that you do purchase, I do get a tiny commission. Those earnings help me pay for hosting and ongoing work on HighTechDad.com. Think of it as buying me a cup of virtual coffee if you'd like. There are no financial transactions that happen on HighTechDad.com itself, as I mentioned. All "Buy Now" buttons will open a site where you can complete a secure transaction.
What to get Dad?
Unless you follow technology and consumer electronics news all of the time like I try to do, finding a "tech gift" for your father might be a bit tricky (and I'm hoping my Father's Day 2022 Gift Guide will help). While I don't have all of the answers, I have managed to form some opinions over the years as I test a variety of products. Below, I have grouped some of my reviews into 3 categories: for the Home or Work Office, Gadgets for around the Home, and an Other sort of catch-all category.
Home/Work Office
You never have enough ports and connections with your computer, I have found. So a common thing that I have reviewed is USB hubs. Check out the HyperDrive 12-port USB-C Docking Station and Hub or the OWC USB-C Travel Dock.
Power and Charging are also great for home or work office gifts. While I haven't reviewed it yet, the HyperJuice 4-in-1 Wireless Charger with MagSafe is my new primary charger that does iPhone, Apple Watch, AirPods, and one more wireless charging device in one charger. If you need to charge a smartphone, tablet, or even a laptop, take a look at the Kovol 120W Charging Mate GaN Desktop Charger.
For some good Computer Accessories, having a good yet inexpensive mic can make a huge difference with video calls or recording, and the TONOR TC30 USB Microphone is the one I have been using as of late. You can never have enough storage either for backups or even primary work. I love the OWC Envoy Pro Elektron SSD Portable Drive for its speed and compact, rugged design. And, I truly wish that my home had had the Epson EcoTank ET-2850 printer during high school when they had to print a million things – this printer never seems to run out of ink!
What about computer hardware itself? Lenovo has a fantastic tablet/laptop that I use whenever I need to work in Microsoft Windows (I'm a Mac guy, but using the Lenovo is truly a great experience – and there is a mini-monitor review in my article on the Lenovo Yoga 9i 2-in-1 Laptop). If your dad needs a portable monitor to add to his laptop when he's on the go, do take a look at the Mobile Pixels DUEX Lite Portable Monitor.
Lastly, if dad works at night, make sure he has some fantastic monitor and desktop lighting. The BenQ ScreenBar Halo Monitor Lamp definitely makes my home office lighting truly elegant.
Gadgets for Around the Home
Here are a few devices and gadgets that might be great for dads around the home.
For starters, having a digital photo frame allows him to see the latest and greatest family and friends' photos. And, the Nixplay 10.1-inch Touch Screen Smart Photo Frame doesn't need a remote – it's a touch screen!
Keeping the air purified and clean of viruses and bacteria is a gift that keeps on giving. Make sure dad has filtered air to breathe with the Cleantech UVC Air Purifier.
If dad sits at his desk a lot during the day, why not get him a desk that is also has a built-in exercise bike? The Flexispot Deskcise Pro lets you work on your computer and exercise simultaneously!
Having power on-the-go is pretty essential these days, and the TECHOSS P300W Portable Power Station lets you take charging camping, to the park, into the backyard, or elsewhere where this isn't a plug to plug into.
And, if dad is the one cleaning the pool, the Aiper Smart AIPURY1500 Robotic Pool Cleaner will truly make him happy as it will get all of the debris from the bottom and scrub the walls without any manual intervention!
A Couple of Other Dad Gift Ideas
Here are a couple of other Father's Day gift ideas that don't really fall under the categories above but that I wanted to include in my Father's Day 2022 Gift Guide.
My new favorite outdoor jacket actually does have some tech built into it. The Fieldsheer Adventure Heated Jacket has a battery that heats up elements within the jacket itself. But, even without the tech, the jacket is well-made and comfortable.
If dad is a big fan of tailgating, having parties in the backyard, or Karaoke, then be sure to check out the iLive Bluetooth Tailgate Party Speaker. It will definitely bring some fun (and music and maybe singing) to any outdoor event!
And lastly, you can get Dad a gift basket, but not just any type of gift basket will do. Definitely take a look at the many offerings available with BroBasket! No flowers, lotions, or other types of non-guy items in this gift basket! (Read the review for the details.)
HighTechDad Reviewed Products for the Father's Day 2022 Gift Guide
These are some pretty amazing products. I try to have fairly comprehensive articles that talk about setup and usage, as well as how these items might fit in with the family (hence why I have them in a Father's Day 2022 Gift Guide). And all of my reviews have a star rating to give you some additional perspective. Click on the pictures to see a quick summary of the gadget, and then read the full review linked there.
If you have any questions about these products that I have reviewed, please feel free to leave a comment on this article or on the review of the product itself. Also, you can ask me directly on Twitter – @HighTechDad. You can also contact me via my Facebook page. And I do have a YouTube channel where I have reviewed some of these products. Lastly, if you have more detailed questions, please feel free to use one of my contact forms.
HTD says: I would like to wish all of the dads and father figures out there a happy, healthy, and safe Father's Day 2022 and best health and wishes in the years to come! Enjoy this Father's Day 2022 Gift Guide, and remember, being a father or dad is a privilege. Honor and respect that role!