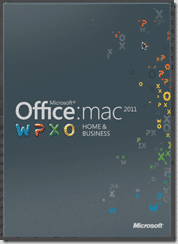 I must admit, I've been pretty lucky when it comes to getting early access to the latest versions of Microsoft Office. Earlier this year, I participated in a program set up by Microsoft called "Office 2010 Real Life Stories". Leveraging the success of that program, I was able to get involved in the tail-end of the Office for Mac 2011 early access program. In the past, the two platform-specific Office suites seemed to me to be disparate and almost from completely different companies. Times have changed, and so has Microsoft Office.
It's been several years since the latest facelift of Office for Mac 2011, and I was eager to find out what the developers at Microsoft had up their sleeves for this major revamp of the software suite. I have been regularly upgrading my Office suites on both platforms and had felt that the Mac was getting a little neglected. The last release for the Mac was Office 2008, which seems like eons ago. Personally, I was itching for an update!
I first spent quite a few months with Office 2010 for the PC in the Real Life Stories program. Monthly webinars and an online forum quickly got me introduced and trained on new features, of which there were many. Also, I got quite a lot of hands-on experience with Office 2010 over the past several months. As the program was ending, I heard rumblings of Office 2011 for the Mac. Would it be comparable to Office 2010 for the PC, I wondered?
Getting into the last few weeks of beta testing Office 2011 pretty much answered my comparison questions. Yes, Office for Mac 2011 is comparable to Office 2010 for PC. And yes, if you are a Mac user in a PC environment, you should rejoice a bit here. More likely, there is even less of a need to have a virtualization solution of Windows running with the PC version of Office now, or, have a dedicated Windows machine AND a Mac (the way I do at my work).
For starters, and I will go into other examples a bit later, the new Outlook 2011 for Mac now simply works great. (Be sure that you have a version of Microsoft Exchange Server that is compatible!) In fact, it probably has a more robust feature-set than the standard Mac Mail.app (which has Microsoft Exchange Server integration). And Word, PowerPoint and Excel have all received some great new features and enhancements, bringing them on par with their siblings on the PC. Let's take a quick look at some highlights of each application in the Office 2011 suite for Mac that I particularly like or that is new/improved and worthy of a mention.
Office in General
Outlook
Word
PowerPoint
Excel
What I mention above is just a small portion of the things that are new or completely refactored or rebuilt from the ground up in Office 2011 for the Mac, and very much in line with what you can get in Office 2010 for the PC.
But, there are a couple of things that Office 2010 for the PC has that is missing in Office for Mac 2011: built-in screenshots and Blog post integration. I really wish Microsoft would add in the built-in screenshot capability where you can grab a page from an application or website and easily embed it into a Word doc, for example. That would have been a nice piece to have. But yes, the Mac version now does have some much better picture editing and formatting options like removing the background. When I saw that on the PC, I really loved it. Now I'm equally in love with the Mac version.
Similarly, the PC version of Word allows you to post and edit documents on a blog. While it wasn't a full-fledged blog writing tool, it was useful to get quick posts out from within Word.
Oh, and I have to get out my bull horn here and formally request that the Microsoft Mac Business Unit work on a version of Live Writer for the Mac! Please! I'm imploring you! Not to get too sidetracked here but I (and many others) believe that Microsoft Live Writer (that only works on the PC) – part of the Live Essentials 2011 suite – is the best blogging software out there. In fact, my personal workflow when writing is to have the final offline edit portion be done on a PC, regardless of where the writing originated. I started using Live Writer back in 2007 (and wrote about it here). So PLEASE, now that you have done such a great job bringing Office on par with the PC (especially Outlook), can you now please port Live Writer over to the Mac as well?
Just to get back to the topic at hand…looking through all of the menus and toolboxes gives me the impression that the Microsoft team spent time re-factoring each and every aspect of the Office software suite. This is a critical aspect to this upgrade, in my opinion.
I started using Microsoft Office many many years ago and have pretty much used each and every version that has come out and that is true for the Mac and the PC. Office is a pretty mature product so I personally found it interesting how new life was breathed into the productivity suite. While many of the core features remain the same, the framework (e.g., toolbars and workspace) surrounding them has been refreshed across both platforms – but, thankfully, in a synchronized way. If you are on a Mac or a PC, you can pretty much expect the user experience to be about 90% the same or higher.
Does Microsoft Office 2011 for Mac stand up against its older brother, Office 2010 for the PC? I definitely think so, in fact, I think that this version of Office for the Mac is finally on par with the PC and can easily co-exist in a PC workplace, especially with the introduction of Outlook for Mac. Cross platform compatibility is solid in all of the applications in the suite. And there are even some features that I wish the PC version had like the "full screen view" in Word.
There are two versions of Microsoft Office 2011 for Mac: Home & Student and Home & Business. The primary different between the two is Outlook (which is included in the Home & Business version and costs about $130 more – but you also get a full year of support, compared to the Home & Student editions that only have 90 days of support). The MSRP is $149.99 for the Home & Student version and $279.95 for Home & Business. Also, when you are shopping for it, be sure to see how many licenses it comes with. Some are family packs of 3 or others are 2 or single licenses. Microsoft Office 2011 for Mac is retailing on Amazon for $126.99 for the Home & Student (3-License) version and $239.99 for the Home & Business (2-License) version.
So go ahead, ask your boss for a Mac, and when he or she says to you "we're a PC shop because of Office and Exchange Server/Outlook", you now can respond back with the song from Annie Get Your Gun "Anything you can do I can do better!"
Disclosure Text : I have a material connection because I received a gift or sample of a product for consideration in preparing to write this content. I was/am not expected to return this item or gift after my review period. More information can be found in my About page as well as here.
HTD says: Microsoft Office 2011 for the Mac is well worth the upgrade!
[amazonproduct=B003YCOJAI]
[amazonproduct=B003YCOJB2]