Wait, it's Father's Day already? Honestly, I thought that it was last weekend so I told some companies and PR firms I wasn't going to do a Father's Day Gift Guide of any type because I didn't have enough time. Then of course I looked at the calendar and saw that it was this coming weekend. So, yeah, I procrastinated a bit more, but then decided I would put together a quick Gift Guide. Most of these items I have reviewed on HighTechDad (and those will be linked). Some others are some gadgets and items that I would love to have so most likely, would be loved by other Dads. (*Disclosure below)
These items are really in no particular order (sorry, I'm a bit lazy and want to get this out fairly quickly). But for those gadgets and gizmos that have reviews on HighTechDad, most likely these are chronologically listed.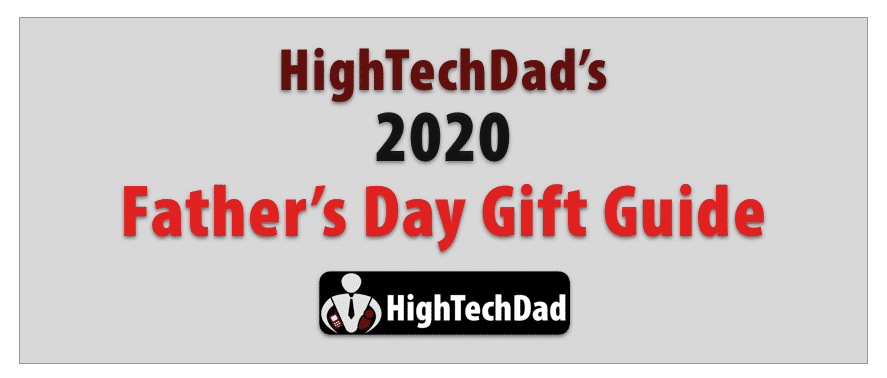 Also, I realize that if you buy these online (e.g., through Amazon), they might not arrive in time for gifting your Dad. Best thing you could do is just print out a picture of the gadget, and then wrap it up in a huge box just for fun!
On to the Father's Day 2020 Gift Guide!
Creative Nova Portable Bluetooth Smart Speaker & Lamp
I love this portable speaker/lamp. It is our go-to, all-around device for our backyard during the summer. When I'm in the hammock, I turn on the ocean waves sound machine that is built-in and I'm instantly in the tropics somewhere. The light adds a great effect and mood to nighttime activity. And since this is a connected speaker, you can instantly call Amazon to run your home automation.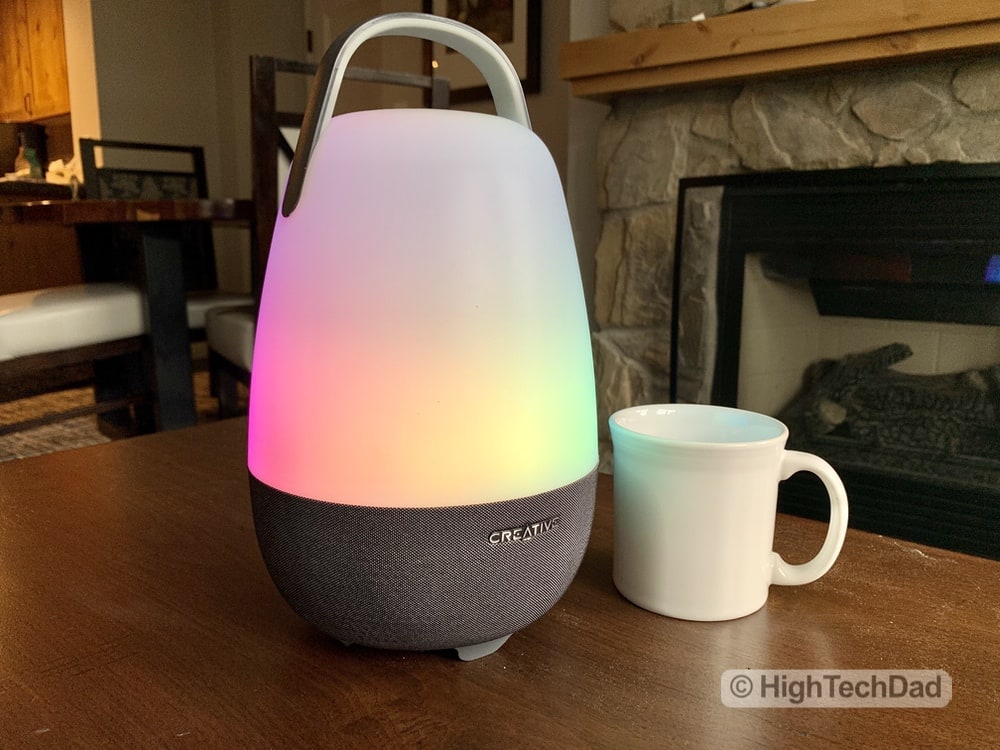 HighTechDad Article: Review: Creative Nova Portable Bluetooth Smart Speaker & Lamp Does It All
Approximate Amazon Price: $70-80
MIDEA Portable Air Conditioner
In our area, Father's Day tends to also be the time when the weather starts warming up. Luckily, my smart wife reminded me to take our MIDEA Portable Air Conditioner out of storage. We hooked it up in our master bedroom. And, it has been a life saver during 100-degree weather. And, because we are only cooling our bedroom, we are saving some $$$ on electrical. The MIDEA works quite will in our room.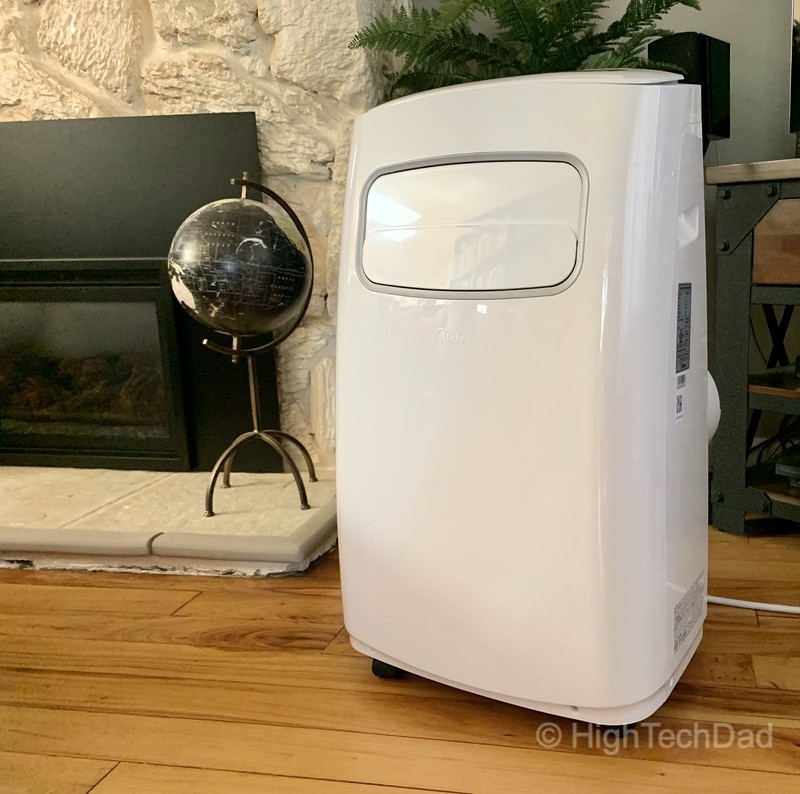 HighTechDad Article: How to Cool Any Room By Voice/App/Remote – Portable, Connected Cooling – MIDEA Air Conditioner
Approximate Amazon Price: $200+
I use this 8-in-2 hub each and every day at work. I honestly don't think I could survive without it. If Dad has a modern Mac with two USB Type-C ports on the side, he will totally appreciate one of these little gadgets. First of all, you don't lose the USB-C ports, but you gain two of the old USB Type A ports, a display port, SD-card reader, and an HDMI port. Made by HyperDrive, this looks like it was made by Apple. A great gadget for Dad to have if he has a Mac!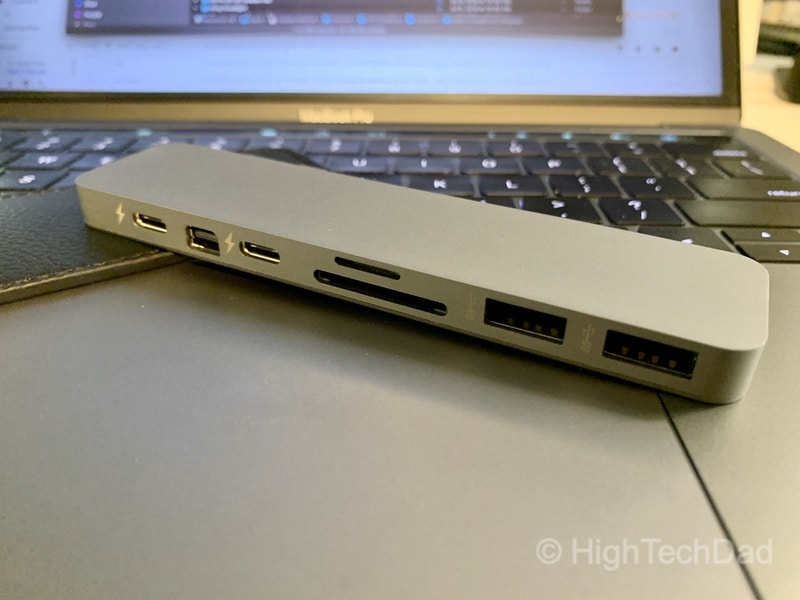 HighTechDad Article: 7 Reasons Why (If You Have a USB-C MacBook Pro or Air) You NEED the HyperDrive Pro 8-in-2 Hub – Review
Approximate Amazon Price: $90-100
PaMu Slide Plus Bluetooth Earbuds
Honestly, you can't have enough earbuds. Leave one pair at home, one at work, one in your car, and one for backup. And you probably have headphones and earbuds for different activities. There are a lot of nice things about the PaMu Slide Plus Bluetooth Earbuds making them a great gift for Dad. For starters, they sound fantastic. They fit well once you get the right sizing (it comes with different nubs). The case that I have also acts as a wireless charger for my iPhone too with is awesome. And the price is extremely reasonable.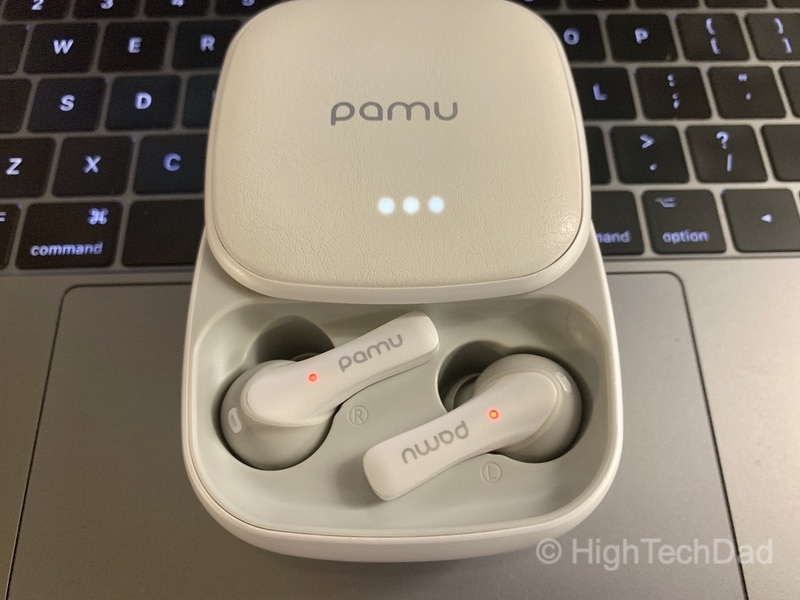 HighTechDad Article: PaMu Slide Plus Bluetooth Earbuds Review – Great Sound & Charges Your Smartphone Too!
Approximate Amazon Price: Not available on Amazon (see review link above for ordering)
Nixplay Next Generation Smart Frame
Just about any Nixplay digital smart frame is a great gift for Father's Day (or Mother's Day) or any holiday. Sending a child off to college? Make sure they have one that you can remotely update with the latest and greatest photos. Does dad live far away (or close by)? Send him the most recent photos on a regular basis.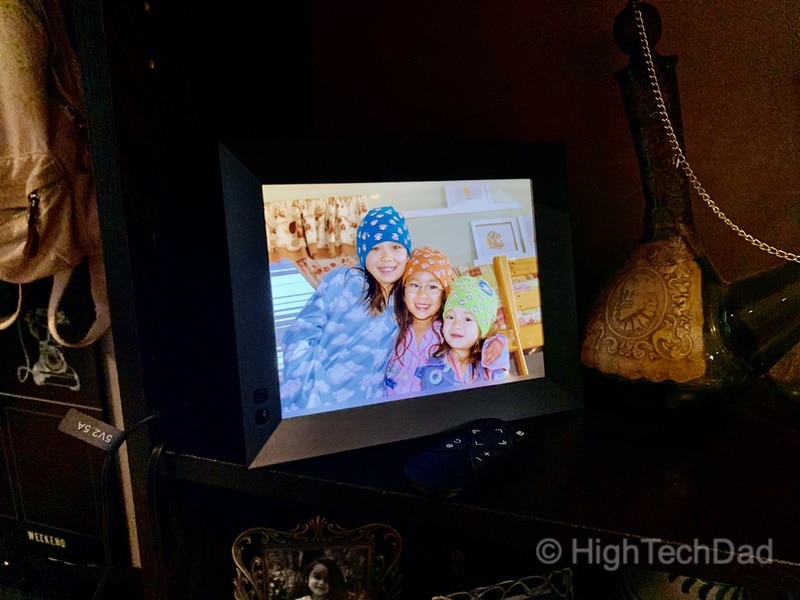 HighTechDad Article: Nixplay Next Generation Smart Frame – Nice New Hardware, Same Great Experience
Approximate Amazon Price: $149-260
Autonomous Sit-Stand Smart Desk 2
If Dad works at home (a lot of us are right now), you might want to look into the Autonomous Sit-Stand Smart Desk 2. This is a reasonably priced motorized sit-stand desk that has 4 memory settings. Standing during part of your day is actually quite healthy (but it is also good to sit once in a while as well). This Autonomous desk will take about an hour or so to assemble, but the construction is quite good.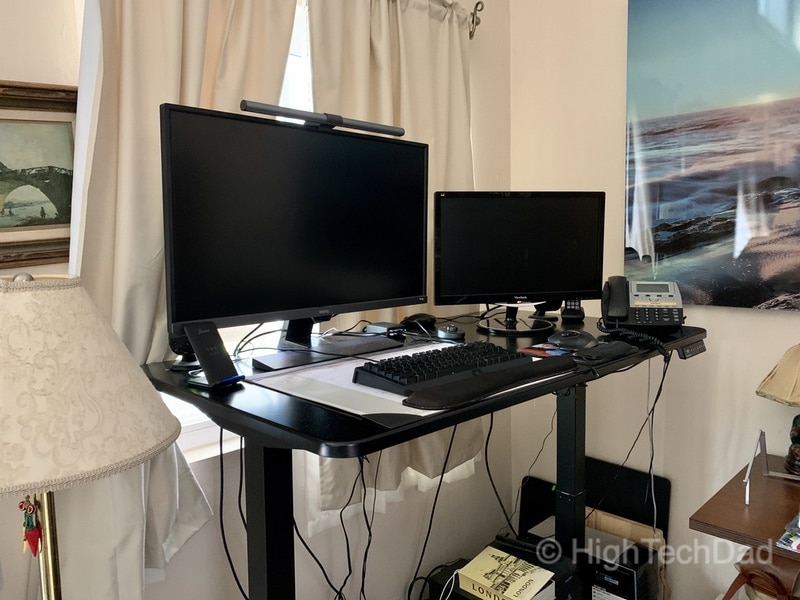 HighTechDad Article: The Autonomous Smart Desk 2 Just Wants You to Stand Up to Work – Review
Approximate Amazon Price: $300-500
Feit Electric Smart WiFi Bulbs
Has Dad (or someone in the family) made all of the lights inside your house smart? What about the ones outside? I installed these Feit Electric Smart WiFi Bulbs for our pool area and it has made the area very festive. I can turn the lamps on using Amazon Alexa or via the Feit app. And I can adjust the color of the floodlights. I set them as a group so I can set the same color for both, but I can have them individually set. They are very easy to set up and use.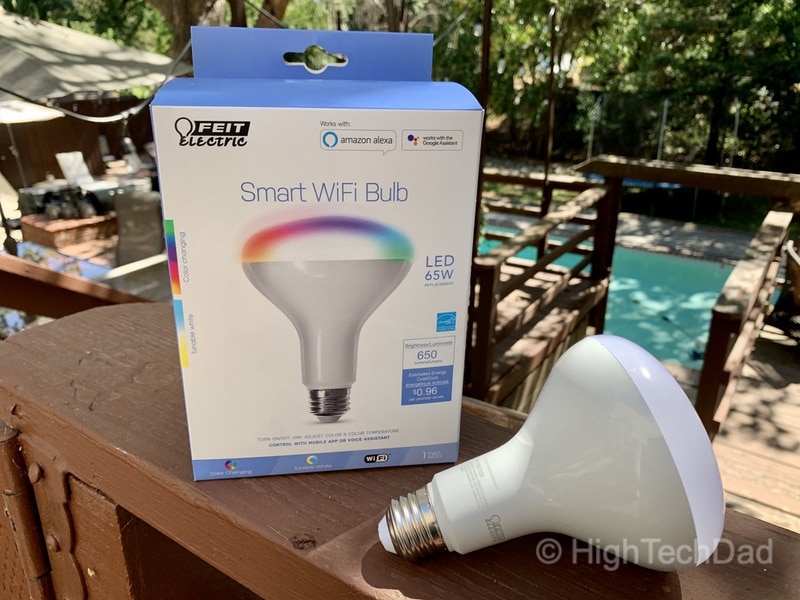 HighTechDad Article: Old Fashioned Flood Lights are Boring & Dumb – Feit Makes Them Colorful & Smart – Review
Approximate Amazon Price: $10-20
dyplay ANC Over-Ear Wireless Bluetooth Headphones
I must say, I LOVE these headphones! Unfortunately, they are currently quarantined at my office in San Francisco. I miss them for many reasons. First, they truly do work extremely well with active noise canceling (ANC) but they are also good quality Bluetooth headphones. And you can even use them as corded headphones as well. But the best thing is the price. These are under $100 (and dyplay finally released some new colors)! Dad will love them too!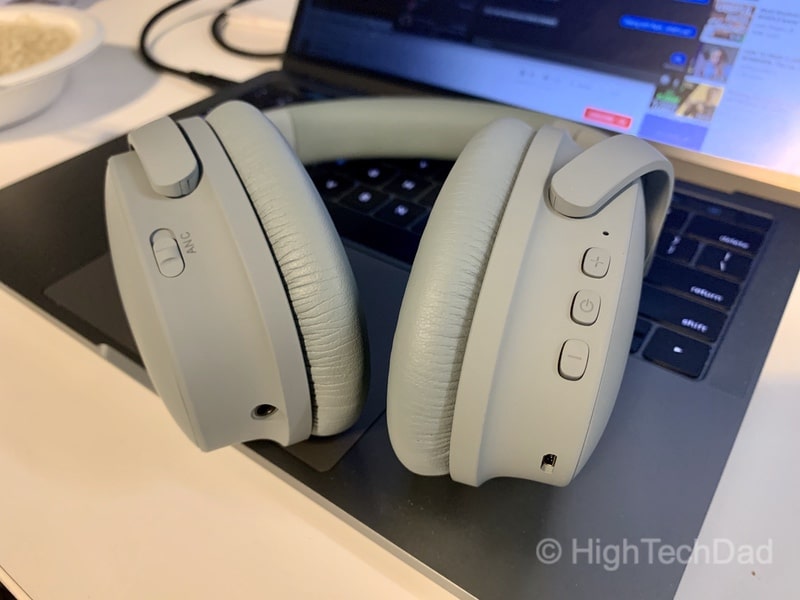 HighTechDad Article: Why Pay $300+ For Noise-Canceling Bluetooth Headphones? Review of dyplay Urban Traveller ANC Headphones
Approximate Amazon Price: $65-90
Two Accell Wireless Charging Solutions
Dads need devices that can charge their other devices. Accell has two great solutions for a variety of situations. My wife is using the Accell Power 3-in-1 Fast Wireless charger to simultaneously charge her iPhone, Apple Watch, and AirPods.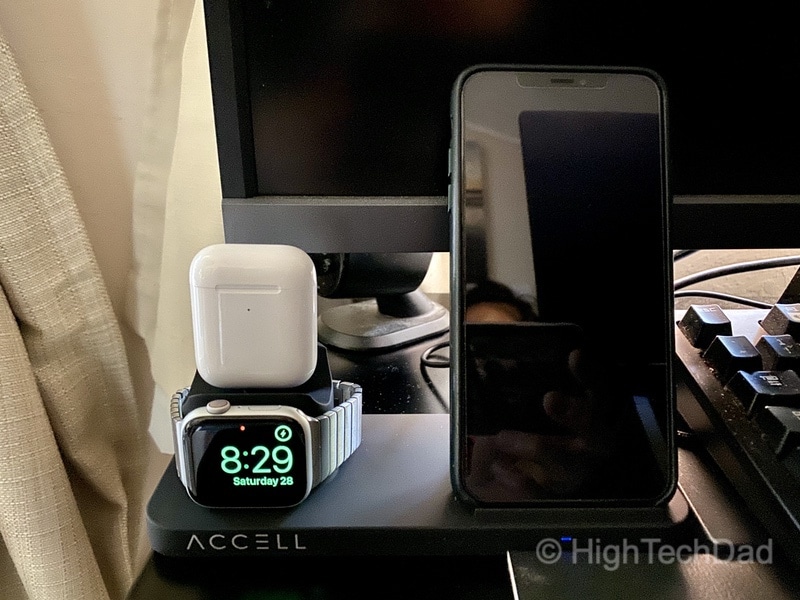 On my desk, I'm using the Accell Power Wireless Charging Pad (which has 5 USB ports and two AC outlets) on my desk. Both of these devices are awesome for dads (or moms)!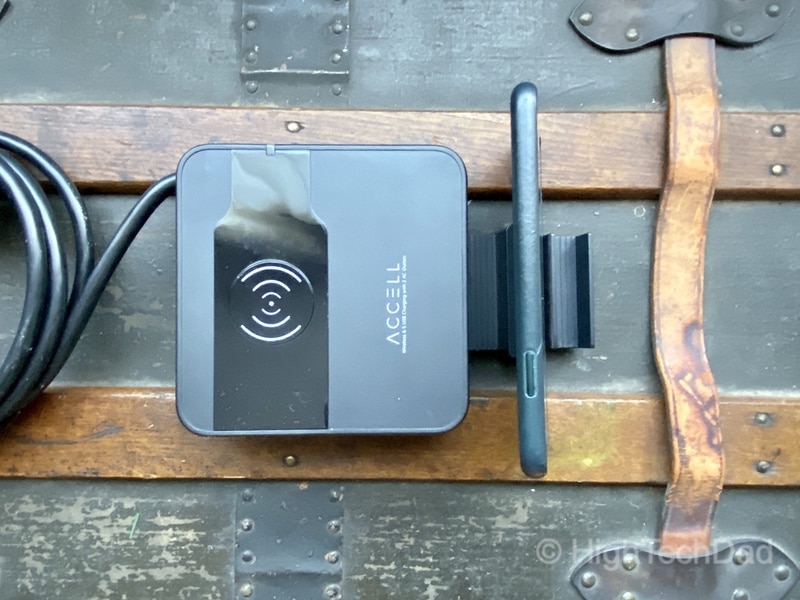 HighTechDad Article: 2 Accell Wireless Charging Solutions to Match Your Needs – Review
Approximate Amazon Price: $25-30 & $25-30
KeySmart NanoTorch Twist Mini Flashlight
As a dad, I love the KeySmart NanoTorch mini flashlight. It is so incredibly useful. Not only does it have multiple levels of brightness, it also can pivot the beam to 90 degrees. And it has a magnetic base which is extremely helpful when working on an engine or somewhere where there is something magnetic to clamp on to. And the included batteries are rechargeable via a micro USB cable.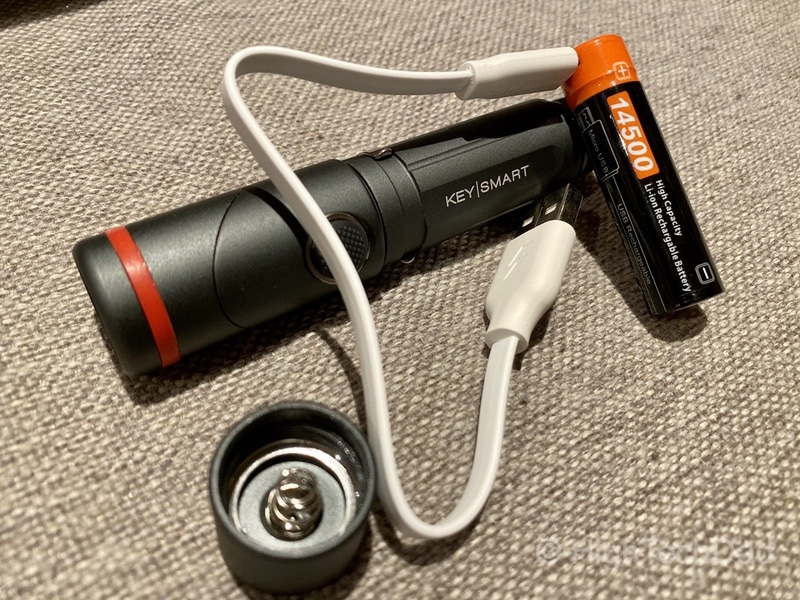 HighTechDad Article: Mini Review for a Mini Flashlight with a Twist – KeySmart NanoTorch Twist [Updated with Promocode!]
Approximate Amazon Price: $60-70
Defense Vertical Duo Wireless Charger
Your dad just simply can't have enough wireless charging solutions available. And the Defense Vertical Duo wireless charge is quite an elegant one that will look good almost anywhere. Wirelessly charge your smartphone and your AirPods at the same time. There is also an extra USB plug in the back to charge one more item. It uses a USB Type C for powering the device itself which means you are getting a good supply of power.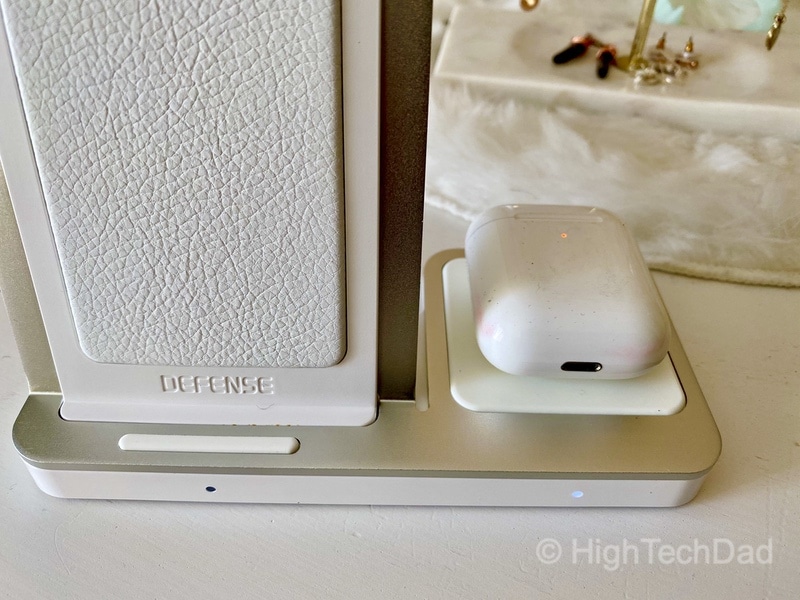 HighTechDad Article: Review: Defense Vertical Duo Wireless Charging Dock – Dual Wireless, Stylish & Functional
Approximate Amazon Price: $70-80
Autonomous ErgoChair 2
To go along with the Autonomous Sit-Stand desk, you may want to get dad an ergonomic chair as well. So while standing is great, you do need to sit as well. This ergonomic chair has many, many adjustments to handle all types and sizes. My kids have taken it over and use it for when they do their homework. The nice thing is, compared to many other ergo chairs on the market, this one won't break your budget!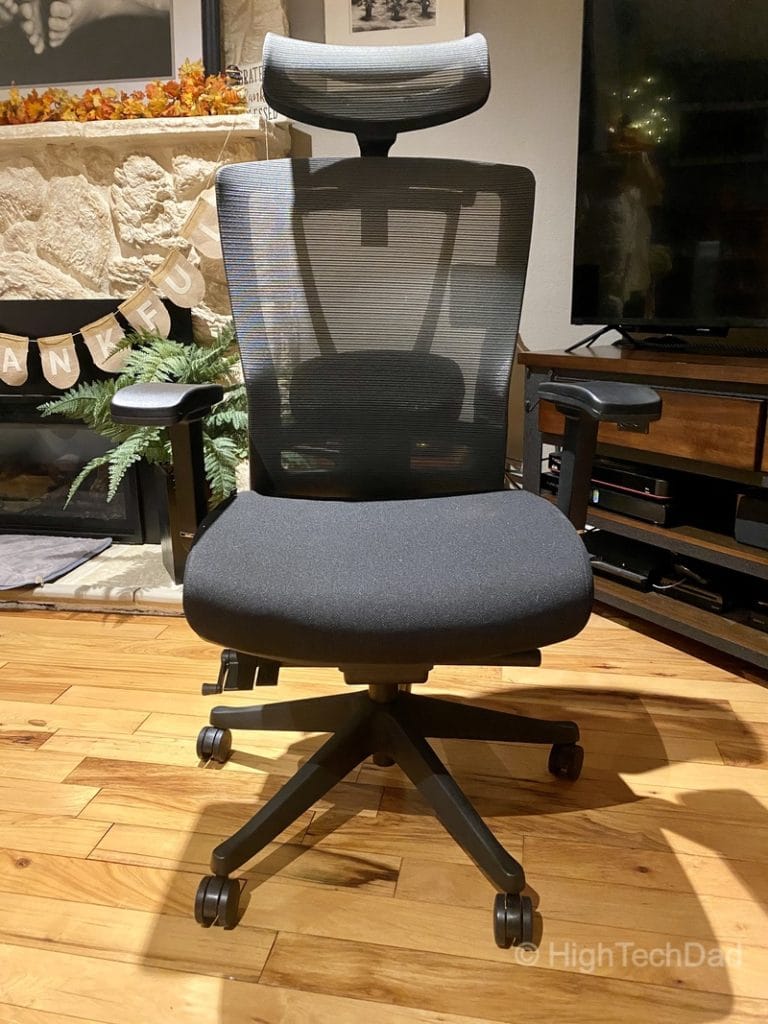 HighTechDad Article: Autonomous ErgoChair 2 Review – Many Adjustments Means More Comfortable Sitting
Approximate Amazon Price: Not available on Amazon (see review link above for ordering)
Lenovo Smart Display 7 with Google Assistant
If you have a Google-powered smart home, you are going to want to take a look at the Lenovo Smart Display 7. This touch-screen powered Google Assistant gives all of the smart home capabilities through either voice or touch screen commands. The display is large but not too large. I have Google cast news and shows to it as it sits next to me at my desk. Having a display make Google assistant so much better!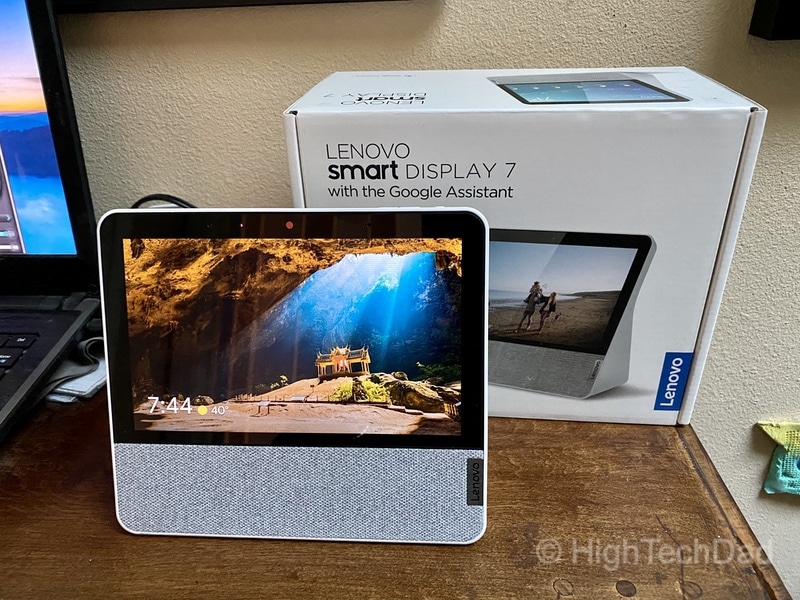 HighTechDad Article: It's Time to Show Off Your Google Assistant – Lenovo Smart Display 7 Review
Approximate Amazon Price: Lenovo Smart Display 7 is not currently available on Amazon, but the Lenovo Smart Clock with Google Assistant is (which I have) for $50-60
VIZIO M-Series 4K/UHD TV (Model M657)
What dad wouldn't like a new, 4K/UHD TV with the latest and greatest features and functions. I have been using a 65″ Vizio M-Series (and trust me, bigger is better) and movie and TV watching has never been better. As more content is streaming in 4K, watching TV and movies at home is practically a theater-like experience. This VIZIO won't be hard on your budget and the newer models are even better from what I understand.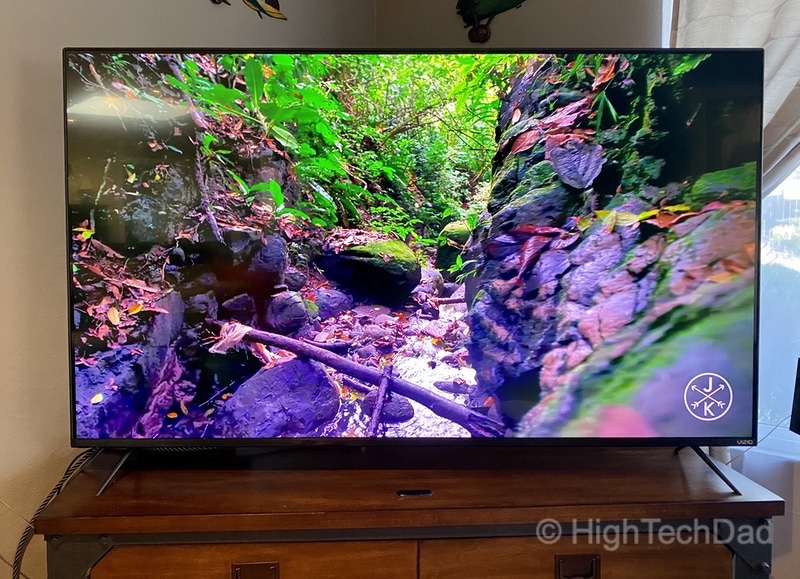 HighTechDad Article: A Perfect Balance of Features, Smarts, Quality & Price – VIZIO M-Series 4K/UHD TV Review
Approximate Amazon Price: This 2019 model isn't available but VIZIO has many from $200-$2000
10Minds Motion Anti-Snoring Pillow
Whether dad is a snorer or you are, this is a great gift for those who have a snorer. And I can testify that the 10Minds Motion Anti-Snoring pillow actually works. My wife snores a bit so she is the wonderful user of this gadget. And I must say, my sleeps have been a lot more peaceful since we started using this smart pillow.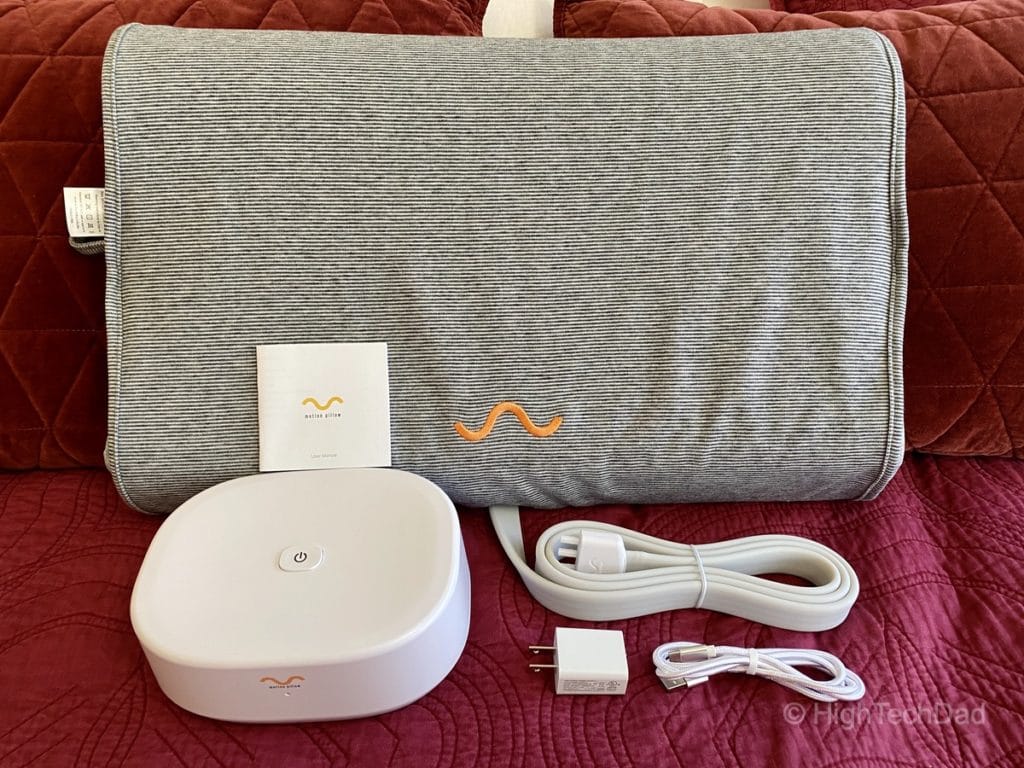 HighTechDad Article: The 10Minds Motion Pillow Anti-Snoring Pillow Actually Works! Review on How It Does It (Updated w/ Video)
Approximate Amazon Price: The version I reviewed has been replaced with a newer version to be released
Gadgets I Will Be Reviewing Soon & Good Potential Father's Day Gifts
I'm currently testing out a few other gadgets that I wanted to include in this Father's Day Gift Guide. I do plan on posting the reviews in the coming weeks.
One of these devices is the Ecovacs DEEBOT Ozmo T5 which is a 2-in-1 vacuum and mopping robot. I have to say, my family is absolutely loving having this little robot vacuum cleaning our floors! We have even named it Bugsie. This robot vacuum is pretty amazing. It maps everything out via a laser and you can configure no vacuum zones based on the map. And, it not only vacuums hardwood floors and carpets, it also does a mopping function. My review is coming. In the meantime, you can see all of the various Ecovacs available on Amazon here. And guess what, any time a dad can NOT vacuum is a good day! Let the Ecovacs robot do it instead!
Also, another pair of devices I will be reviewing soon that will make Dads happy are two things from Google. For starters is the Nest Wifi. As many of us are now sheltering at home, having good WiFi coverage at home is critical to a happy family. You don't want your kids complaining that they "can't connect" or they have slow speeds. With the Nest Wifi, you are able to blanket the WiFi coverage throughout your home. I love evaluating WiFi routers but the Nest Wifi looks like a whole new generation with a speaker and Google Assistant built-in. I'm looking forward to reviewing it. Regardless, this would be an ideal gift for dad. Available on Amazon starting at $149.
And, lastly is another Google product that is designed for any smart home. The Nest Hub Max is one of those devices that needs to be showcased, yet it will be cherished by dad. Not only is it a display, but it can do a whole lot more. I haven't had a chance to review it yet, but the promise of lots of geeky, dad-friendly features is high. Whether you want to stream media, have a video call, listen to music, or control your smart home, the Nest Hub Max will do all of this and more. The retail price is currently $199 and this is one of those gadgets that dads will definitely love. My review will be coming in the next few weeks!
Happy Father's Day!
To all of the dads and father figures out there, I hope you have a wonderful, safe, healthy, and fun Father's Day. These past few months have been quite hard on people and sometimes it is fun to do the gift of giving. And if you can't do that, write a note or letter to your dad, or send him a card. If anything, during these hard times, appreciate what you have, give your kids or family or friends a hug (socially distanced if possible). Dads – enjoy your day!
HTD says: Hopefully this list of HighTechDad Father's Day Gifts will bring joy to the dad or father figure in your home or family. Have a great Father's Day!